Met Abuse Report: David Mellor Calls For Met Boss To Resign
7 November 2016, 12:06 | Updated: 8 November 2016, 15:51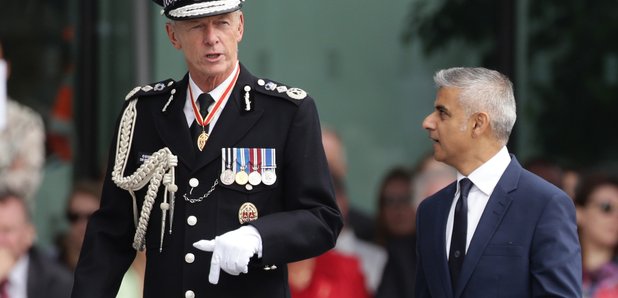 David Mellor calls for Sir Bernard Hogan-Howe to be resign over his handling of Operation Midland - after a report he says the Met tried to bury amid today's US election.
Below he blogs about his outrage at what he calls an attempt to bury the reports publication.
Tomorrow Bernie is going to slip out an edited version of the report into Scotland Yards' despicable handling of sexual allegations against public figures like Lord Bramall and Leon Brittan on the say-so of a serial fantasist called "Nick".

On the basis of his spurious allegations which were, to a mature mind, utterly lacking incredibility from the outset, the Yard spent 16 months - and £2 million - investigating, and behaving outrageously, towards distinguished men like Bramall and Brittan.

Bramall had his home searched by 20 officers, with his dying wife, in a totally bemused state about what was going on, having to be carried from room to room. It took the Commissioner two years to apologise for a search he now acknowledges was totally unnecessary. Brittan went to his grave thinking he was still under suspicion, when months before, the Yard had decided he had no case to answer, but were too embarrassed to tell him.
Apparently the report, by a retired High Court judge Mr Justice Henriques, is scathing about this investigation, and, says the Telegraph, especially critical of two of Hogan-Howe's principal lieutenants: Assistant Commissioner Pat Gallan and Deputy Assistant Commissioner Steve Rodhouse. The Telegraph predicts a reference of both these senior officers – almost unprecedented – to the Independent Police Complaints Commission is likely.
If even a version, allegedly edited by Hogan-Howe himself, is so incendiary, what must the whole thing read like?
Well, I would like to know, and so, I suspect, would you. Indeed, I would say it's manifestly in the public interest that we should know, because £2m of public money was spent on this spurious investigation, and those who fail to learn the lessons of history are doomed to repeat them.
We never want another Operation Midland, so it's necessary to cleanse the Augean Stables at New Scotland Yard right now.

Which brings me to the Home Secretary, and to the Mayor of London. It's perfectly obvious that Hogan-Howe won't publish, so those responsible for supervising him must insist that he does.
I have no particular hopes of the Home Secretary, who is way too inexperienced, but Sadiq Khan is a different matter. He has nothing to gain from permitting a Hogan-Howe cover-up, and every prize to win by showing that he's a tough guy, who believes in properly accountable policing, and will not allow the police to get away with abuses of power on the scale of Operation Midland.

So come on Sadiq. Tell Hogan-Howe you won't be a party to a cover-up.