Acas can help solve junior doctors' dispute and build trust between both sides, says former chief
13 April 2023, 13:43 | Updated: 13 April 2023, 13:44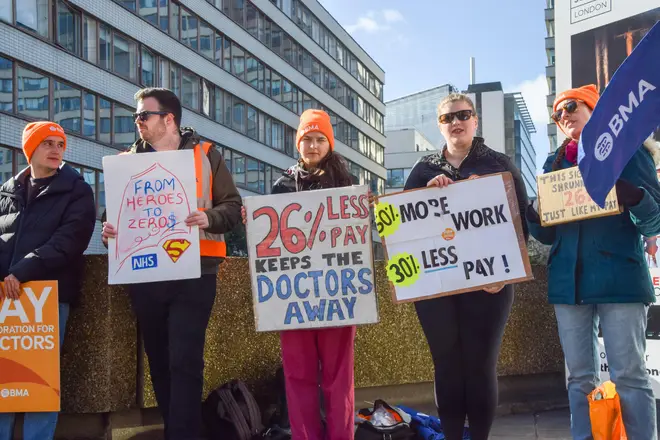 Acas can help solve the junior doctors' pay disputes and help to build trust between both sides, writes John Taylor, the service's former Chief Executive.
Who are Acas?
The Advisory, Conciliation, and Arbitration Service (Acas) has been around for almost 50 years helping to improve employment relations and resolve conflicts in the workplace. It is impartial and completely independent of Government. It has no statutory powers and the use of its services is completely voluntary
Many years of austerity followed by COVID and massive inflation has meant that these are immensely challenging times for the maintenance of good employment relations. With the vast majority of people facing massive cost of living pressures, wage levels are now firmly back in the spotlight.
Nowhere is this more apparent than in the Public Sector and the NHS in particular. The current dispute with the Junior Doctors which follows that of the Nurses is a perfect illustration of this.
Tensions always rise in long-running disputes with both sides taking up positions that are often diametrically opposed meaning that trust has broken down and that constructive dialogue has become very difficult.
Using an impartial third party like Acas can help bring the necessary new perspective to identify common ground and values that could help find a way forward to break the deadlock
What do Acas conciliators do?
Acas conciliators are neutral which means that they neither take sides nor impose solutions.
Their prime task is to help both parties find a solution that everyone can sign up to.
The approach is flexible but typically the conciliators will have separate informal talks with both sides to understand fully all of the issues involved in the dispute.
They will then help parties to concentrate on the key issues, to negotiate on what they can control and not conflate and complicate the dispute further. Hopefully, this will help identify that common ground that is necessary to kickstart a meaningful dialogue, and, using their broad knowledge of employment relations, the conciliators will help the parties to move towards potentially workable solutions.
If the parties do reach an agreement the conciliator will help them to draft the terms or write up what has been discussed to facilitate any further discussions
Why is conciliation helpful?
Though by no means a silver bullet conciliation can be very helpful as in the current Junior Doctors' dispute where the parties are in polarised positions with no visible progress being made.
It can be particularly helpful in Public Sector disputes where rarely the Government is not in the room but where an element of the dispute has become, often unintentionally, overtly political.
Conciliation focuses the mind and helps the parties to get back to the root causes of the dispute and to think longer-term about workable solutions.
Critically also it helps the parties to build long-term trust and openness in their dealings to avoid any repeats of the breakdown in constructive employment relations in the future.