Alexei Navalny's harsh sentence aims to silence opposition but martyrs him instead, writes Dr Stephen Hall
9 August 2023, 10:30 | Updated: 9 August 2023, 10:40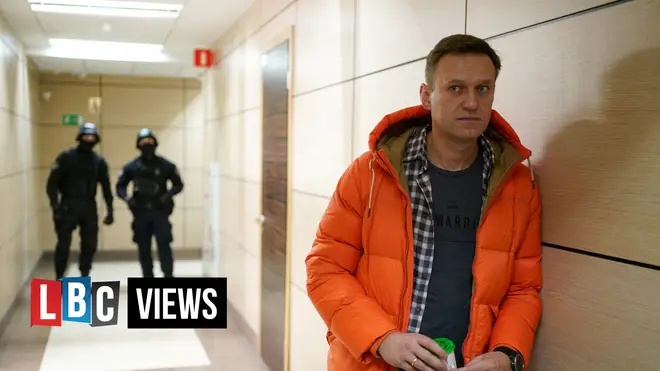 On 4th August, Russian opposition leader Alexei Navalny was jailed for another nineteen years and will be jailed in a special prison. This means his total sentence will put him in jail for the next 25 years - he'll be 72 when released.
This is a death sentence in all but name.
Navalny has been in and out of prison since 2012 on charges of embezzlement, fraud, contempt of court and violating parole. The latter conviction came when Navalny left for Germany, having been poisoned by members of the Russian security services.
The Anti-Corruption Foundation, started by Navalny, ran an anti-corruption campaign and created an active grass-roots political network.
In Putin's Russia, we cannot truly determine the extent of support for the war, but we know that opposition is forming while Russia fails in its offensive and its economy and oligarchs suffer.
Now war has reached Moscow, support from regular citizens is wading. Regular people who have known the freedom of the West and have the means to access outside information exist amongst the police state. The post-cold-war period offered new light into Eastern Europe; it's been tough for Putin to close Pandora's box now it's been opened.
Navalny's sentence was an attempt to weaken this opposition. But when removing a campaigner who could mobilise citizens onto the streets – they only martyred him.
Heightening his image of bravery and showing both liberals and pro-regime supporters that Mother Russia is a turnkey.
They saw their homeland as an oppressive police state, and the Kremlin, still reeling under the pressure of anti-war protest, had glitched.
While unlikely to happen if Putin remains in power - the West must push for the release of Navalny. But at the very least, by maintaining support for Ukraine and beginning a dialogue with elites in Russia, the Western alliance can contribute to Putin's removal – or regime collapse.
And should a regime change fail to produce a changed Kremlin, liberal democracies must assert that any improvement in relations with Moscow is predicated on Navalny's release.
This position is critical if we are to encourage the strength and bravery of those willing to stand against authoritarian regimes around the world as democratic societies are depleting.
By Dr Stephen Hall, Associate Fellow at the Henry Jackson Society.