If not Andrew Tate, then who? Yaman Mohammed asks what role models are there for young men
2 October 2023, 13:10 | Updated: 2 October 2023, 14:12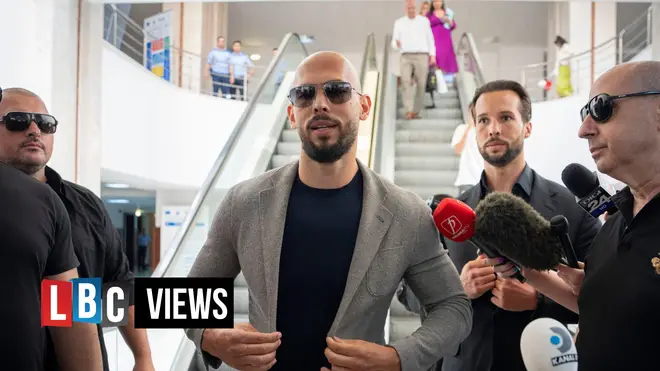 One in six boys holds a positive view of Andrew Tate a YouGov poll revealed. In other words, the group leader admires him. As an 18-year-old Briton myself, I feel an urge to understand why young men look up to Tate.
While we frequently critique Tate's character, there is a noticeable absence of realistic suggestions for better role models for young people to look up to.
Why is this?
There are loads of successful sports stars, musicians and actors out there. Many are popular but their lifestyles feel so far removed from everyday life.
When I'm sat on a bus hearing a rapper sing about which Aston Martin he wants to drive I think, 'I don't even have a bike.'
Every generation needs role models and we need to ask ourselves the question; 'Why are today's youth so disconnected with the people we are supposed to be looking up to?'
In just 12 years youth services have been hammered. We have seen more than 750 youth centres close in the wake of £1.1billion funding cuts.
And this matters.
Millions of youngsters now spend their time at home, filling the void with social media.
He may be far from an ideal role model but Andrew Tate has managed to step into this void preaching his message of mysoginy and hate.
Young boys desperately require positive guidance and role models to help them cultivate a healthy sense of identity, emotional intelligence, and social skills.
For those growing up without a father figure in their household, this task becomes even more challenging. Often, they seek this in the form of older friends but in cities where gang culture is rife that can see them led astray.
In the case of Andrew Tate, impressionable boys may find themselves drawn to his content on TikTok and Instagram videos.
Nick Fletcher, Conservative MP for Don Valley, has led the call for a 'Minister for Men' as there is already a minister for women.
While I don't support this idea at least he is trying to think of a solution and for that he deserves some credit.
When individuals like Marcus Rashford endeavour to make a positive impact, let us rally behind them.
It is essential that we collectively strive to fill the void for our children.
I firmly believe that by publicly condemning individuals like Tate without simultaneously promoting better alternatives, or even by reinstating youth clubs and restoring the funding they deserve, we may be doing more harm than good.
Change is urgently needed.