Are police now being more cautious with their new protest regulations?
15 June 2023, 10:55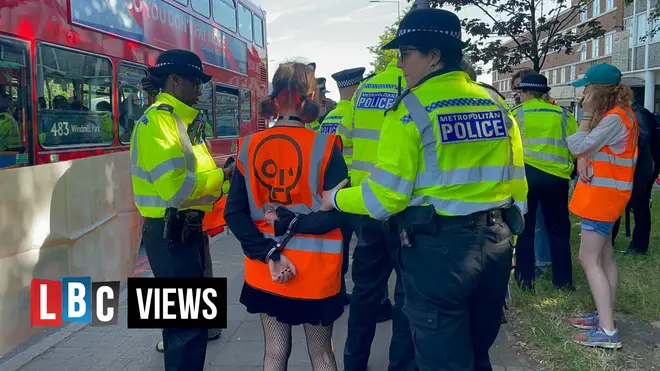 I watched this morning as 20 Just Stop Oil activists stepped onto one of the busiest roundabouts in London, on the day that regulations around policing these very demonstrations changed - again.
The time was 8.04am and just minutes before a second group had started slow marching a few hundred yards up the road.
Within 90 seconds, two police motorbikes, a car and a van with officers were behind the group I was following, creating a buffer zone between them and the rush hour traffic, loud with horns from lorries and cars. Drivers were shouting abuse and profanities.
But it was 30 minutes before any arrests were made.
The group was able to make a full rotation of the roundabout - more than four lanes wide - causing a huge amount of disruption.
The regulations now say police can use their powers to restrict and even stop demonstrations like slow marching if they cause 'more than a minor hindrance' to day-to-day activities.
But this wasn't a minor hindrance. This was a colossal inconvenience.
Were police, perhaps, being cautious with these new powers; trying to avoid a repeat of the King's Coronation, when at least six protesters were arrested, they believe without reason, under regulations which were changed just the day before?
Or were officers just stretched in their resources, unable to be in two places at once?
Either way, drivers around Hangers Lane were furious - both at Just Stop Oil and at the police.
One man shouted at them: "Just f**king arrest them."
While another lorry driver yelled out his window: "If that was me, I'd be locked up already!"
It was 8.20am before a Section 12 order was even placed on the protest, telling the group they must leave the road.
Around half of the protesters complied with that, but the other half - the ones 'willing to give up their liberties' - continued with the action.
And it was another 10 minutes before three police vans, snaking through gridlocked traffic with blue lights and sirens appeared to start making arrests.
In the end, eight of these activists were put in handcuffs and removed from the road before being taken away in a police van.
But the disruption was already caused and continued for around an hour as the gridlock struggled to ease.
And as one driver put it to me: "The police just let it happen for half an hour too long".