What we should all learn from Sir Bobby Charlton: Celebrating the enduring legacy of a footballing legend
13 November 2023, 12:04 | Updated: 13 November 2023, 13:24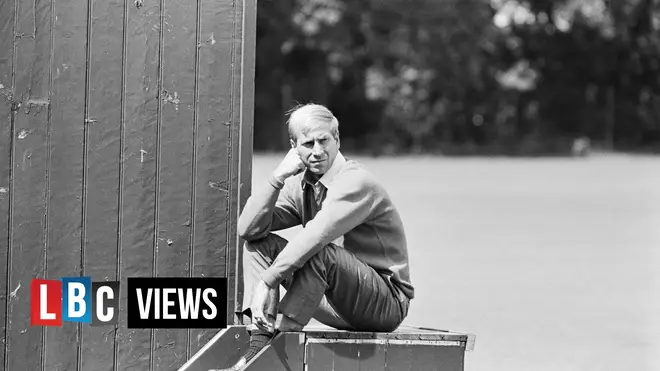 The criteria for what qualifies an individual as a 'sporting great' are open to interpretation. Often, it is judged in a narrow, statistical sense, with trophies, accolades and win percentages exalted above all else.
To others, the artistry and skill displayed by a golfer, cricketer or tennis player are the chief determinants. Either way, at the heart of both definitions is an assumption that what happens on the pitch, court or arena should dictate our understanding of this concept.
Yet it is impossible to truly communicate the greatness of Sir Bobby Charlton through these terms alone.
To be sure, he was a footballer of exquisite technique and temperament, capable of single-handedly deciding the most intense and important fixtures.
His achievements, both individually and for his club and country, are fabled. His glittering career yielded innumerable triumphs with Manchester United, a European Footballer of the Year award and the Jules Rimet trophy for England in 1966.
But what elevates Sir Bobby above any other sportsman or woman that Britain has ever produced are his enduring personal qualities - namely his resilience, selflessness and almost unfathomable humility.
These attributes not only help to explain the most inspiring sporting tale ever told, but also provide instruction as to how we should all live our lives.
Let's start off by discussing his resilience. On February 6th 1958, a blizzard-buffeted aircraft made its third attempt to take off from Munich-Riem Airport in Munich but skidded in thick slush and collided with a fence at the end of the runway, causing an explosion which killed 23 people.
Onboard were the flight crew, journalists, and Manchester United's coaching and playing staff, including Sir Bobby, who was pulled from the smouldering wreckage by goalkeeper Harry Gregg.
Aged only 20 at the time, it is easy to see how the trauma of Munich could have defined his life. The shock of the accident, and the devastation of losing eight teammates, including his dear friend Duncan Edwards, could have proved an insuperable psychological barrier for Sir Bobby.
Forget simply preventing an individual reaching their potential - many would have been drained of the desire to play football altogether.
Yet, aided by mercurial talents such as George Best and the stewardship of manager Sir Matt Busby, Sir Bobby's resilience was the driving force behind Manchester United's transformation from a team decimated in the snow of West Germany to champions of Europe within a decade, capping it off with two goals in the final of the competition in 1968.
The journey Sir Bobby inspired became the foundation myth of England's biggest football club. It's the story that is the reason United's stadium is labelled 'The Theatre of Dreams'.
Given how instrumental he was to this most remarkable tale, coupled with his success in the World Cup, it would have been easy for Sir Bobby to develop an inflated ego - and yet this simply never materialized.
Indeed, you could imagine the great man blushing at any mention of his brilliance, such was the extent of his humility.
He served as the most distinguished of ambassadors for both Manchester United and the Football Association, ever the gentleman regardless of the company he was in.
To this day, the Sir Bobby Charlton Foundation continues to aid some of the most impoverished communities globally, removing landmines from war-torn areas and providing support in the form of prosthetics for those injured by their blasts.
In short, across the world, the boy from a small mining community in Northumberland was recognized not only as an ineffably talented footballer but a good man who tried to make a difference.
And this is exactly what we should reflect upon as Sir Bobby is laid to rest on Monday.
Whilst it's impossible for us to come close to matching his abilities on a football field, it's his greatness off it that we can all seek to mirror.