Britain finally seems to be reacting to the Sudan crisis
25 April 2023, 12:25 | Updated: 25 April 2023, 13:06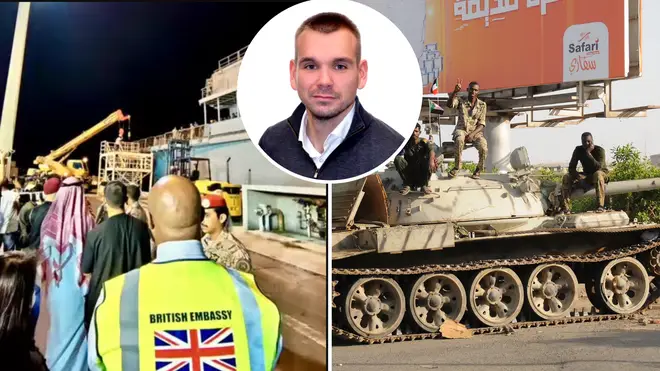 Has the UK been too slow to evacuate its nationals from Sudan?
As fighting between the Sudanese Armed Forces (SAF) and the paramilitary Rapid Support Forces (RSF) in Sudan enters its 11th day, international efforts are continuing at pace to evacuate foreign nationals from the east African country.
The UK government announced early on April 25 that it had begun a "large-scale" evacuation of British nationals from an airport north of Sudan's capital Khartoum, which has seen some of the most intense fighting over the past week.
This comes after the warring parties agreed overnight to observe another 72-hour ceasefire, with foreign governments hoping this will provide enough of a lull in the clashes to get people out of the country.
The announcement comes after several days of intensifying criticism towards Westminster of being unprepared and too slow to respond to the crisis. A UK military operation managed to evacuate diplomats over the weekend, but other British nationals in Sudan have reported little to no information from the Foreign Office, aside from being told to stay put.
This criticism reached a crescendo yesterday as other countries, including France, Germany, Italy, staged evacuations. So has the UK been too slow to rescue trapped British citizens?
One of the key challenges the UK faces is the number of British nationals in Sudan. The government estimates there are around 4,000 UK passport holders in the country.
This is significantly more than most other countries, who have several hundred. Of Western nations, only the US is believed to have more citizens in Sudan, with around 16,000.
Perhaps uncoincidentally, the US is the one other Western nation that has done little to evacuate its people, aside from also rescuing its diplomatic personnel.
The numbers are crucial, as more people make evacuation planning and logistics more complex and lengthier. The RAF planes involved in the evacuation - a A400M Atlas and C-130 Hercules - have a capacity of 200 and 120 people respectively, meaning a large number of flights over many days will be needed to evacuate everybody.
Several Royal Navy vessels are also en route to Port Sudan on Sudan's Red Sea coastline, but Britons will face long overland journeys across insecure regions to reach these.
Given the volatile situation in Khartoum, getting a large number of people to evacuation points will also be difficult. The latest ceasefire appeared to largely hold overnight, but Sudanese commentators on social media report continued fighting and artillery fire in Khartoum and neighbouring Omdurman in recent hours.
These reports, alongside weak command and control structures among both warring parties, mean the prospects of the 72-hour ceasefire being fully observed look slim. Since the conflict began on 15 April, four ceasefires have failed, suggesting limited success for the current one.
It is also unclear where UK nationals in Sudan are located. Most are believed to be in Khartoum, but others will be in places such as Darfur, which is also witnessing intense SAF-RSF fighting, and where many humanitarian organisations operate.
The Foreign Office has launched an online portal for UK nationals to register their presence in Sudan. So far around 2,000 people have registered but as power and communication outages worsen this will become more difficult.
What is clear is that the longer it takes to evacuate citizens, the more challenging the operational environment will become to evacuate personnel. As more foreign nationals leave Sudan, there are fewer incentives for the SAF and RSF to pause fighting.
So far, the warring parties' leaders - General Abdel Fattah al-Burhan and General Mohamed Hamdan Dagalo "Hemeti" - appear keen to appease the international community by calling ceasefires to allow evacuations. However, both sides have indicated they want to continue fighting and as more foreign personnel leave, the less leverage the international community will have to prevent this.
Should the international community have seen this crisis coming?
Amid the confusion and criticism of evacuations, there is a broader underlying question. Should the UK and the wider international community have seen this crisis coming?
The UK, US, EU, UN and others have been heavily involved in efforts to facilitate a transition to a civilian-led government in Sudan since the ousting of longtime ruler Omar al-Bashir in 2019.
However, they seemingly failed to foresee armed conflict between Sudan's two most powerful military leaders, who each have over 100,000 troops at their command.
On one hand, the clashes seemed inevitable. Divisions between al-Burhan and Hemeti have widened since the October 2021 coup and escalated to new heights in the weeks immediately before the fighting amid a dispute over the integration of the RSF into the SAF.
The two forces had also recruited heavily and made a series of strategic military manoeuvres in recent weeks and months, seemingly in preparation for fighting.
However, the SAF and RSF have raised tensions before to secure concessions from civilian groups involved in Sudan's democratic transition, only to then de-escalate the situation.
After the latest deadline to form a civilian administration was missed on April 11, many within the international community perhaps naively presumed the government formation date would just be moved, as it has previously. Al-Burhan and Hemeti were also widely seen as rational actors, sensible enough not to start fighting in Khartoum, a city of 8-10 million people that has avoided conflict previously.
Lessons to be learned?
It's quite clear the UK and wider international community will have to learn lessons from this, both in crisis management and political dealmaking with military strongmen. However, this will come after the current crisis has been managed.
For now, the international community's focus is on securing a more permanent cessation of hostilities that can be extended to get Sudan's civilian transition back on track.
That is quite right, as the longer the conflict goes on the worse it will get and the greater the chance it will absorb a range of other armed groups in Sudan, as well as regional powers such as Egypt, Libya and Chad.
However, this needs to be a multi-track process, with ceasefire calls occurring alongside evacuations, particularly as the former looks unlikely. The UK finally seems to have understood this as of this morning.
Also, spare a thought for Sudanese civilians caught up in the fighting. Most Sudanese hoped for the establishment of a civilian government as recently as two weeks ago and now find themselves bunkering down in their homes with dwindling resources, or fleeing to neighbouring countries or elsewhere in Sudan.
No one is sending a C-130 to rescue them, and they are relying on their own resilience, resourcefulness, and ingenuity to save themselves and their families.