Halting the ebb of SNP support will take more than a council tax freeze, writes Gina Davidson
17 October 2023, 21:34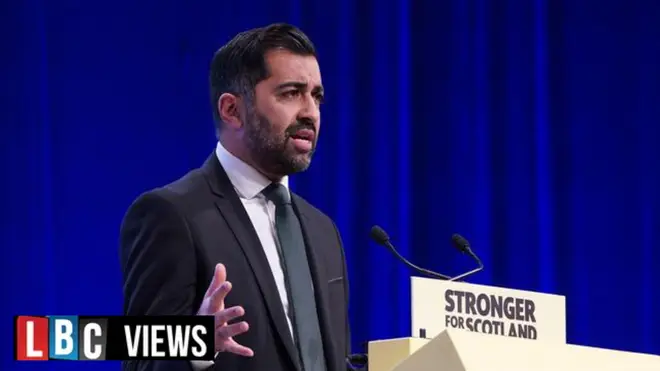 If Humza Yousaf's aim was to make SNP delegates leave their Aberdeen conference with a smile on their faces, then he achieved it.
If, on the other hand, it was to stop the ebbing away of wider public support for his party as a General Election draws ever nearer, then he still has a huge challenge on his hands.
Much of this conference, his first as leader, focused on independence. That might seem a somewhat obvious choice of subject for an SNP get-together, but for years since the failure to win the 2014 referendum, there has been little discussion on strategy - that was dictated by Nicola Sturgeon and ended in defeat in the Supreme Court. Yousaf has changed that.
He gave delegates a whole afternoon to argue the toss about whether at the next General Election the party needs to win the most, or a majority, of MPs in order to open talks with the next UK government on giving that result "democratic effect" - which could be another referendum, or to give Holyrood permanent powers to hold constitutional referendums.
Others argued that to be credible the party really needed to win the majority of the votes cast, not just the MPs, in order to speak to the UK government about independence again. They didn't win but seemed delighted to have been heard.
For those Scots, the majority, not in favour of independence, the debate was probably best summed up by a delegate who described it as "flatulence in a trance". But it all ended in an overwhelming vote for a resolution which will see the party campaign in the next General Election on the idea that a majority of MPs is enough to trigger those talks.
If they voted for it in a trance, then they will be woken from it whenever the General Election is called. For Yousaf appears to have set himself and his party a trap here.
The SNP has had a majority of Scottish MPs for years and has never felt that was a mandate to demand anything. Currently it has 43. At the next election it would need to win 29 constituencies to get a majority and that is looking trickier by the day. The SNP is looking at big losses, and the recent Rutherglen and Hamilton West by-election was a taster of what could come.
The polls have seen Labour draw neck and neck, and it could well be that they win the most MPs in what would be a huge turnaround for the party's fortunes. Even if they don't, but have vastly more MPs than their current two, and Keir Starmer ends up in No10, the idea he would agree to any discussions on independence or a referendum on the back of his victory, is for the birds. The SNP's only hope is that there is a hung Parliament and they can demand concessions.
But for Yousaf, he now has a strategy and he's happy with that. He wants to stop talking about process and move onto substance and the arguments for independence he wants to make to the electorate. Hence his giveaways in today's speech which add up to more than £1bn.
His announcement that council tax will be frozen - rather than those in higher tax bands being asked to pay more - drew big cheers in the hall but was aimed far beyond it. The potential of rises during a cost of living crisis was something Labour used to attack the SNP in Rutherglen and it worked. The freeze is the SNP's response, and as a result we may also now see Yousaf draw back on making any changes to income tax on higher earners when he comes to set the next budget.
But it has not gone down well with the councils body Cosla - with whom he recently signed a new agreement deal which was to reset relations. It had no advance warning and there are serious worries that if the freeze is not fully funded by the Scottish Government there will have to be more cuts to public services. And this at a time when schools are set to close in November and December as a result of strike action over pay.
Similarly, the Scottish Greens, his partners in government, were only told a few hours before he made the announcement and are unhappy about it. But his decision to cut them out might bolster support for Yousaf in sections of his party who hate the deal struck with the Greens. He and his advisers have undoubtedly weighed that in the balance.
There will also be those on the left in the SNP who will be concerned that a council tax freeze does nothing to help the poorest, but allows higher earners to benefit. That thorny issue may well have caused Yousaf some deep thought - but the fact that John Swinney, architect of the concord with councils back in 2007 which saw a freeze last for years, was brought in post-Rutherglen for a summit of older heads to discuss what went wrong, points to why he has landed there. And let's face it, in general SNP members were happy with the policy then, and they certainly seemed happy today.
More money for the NHS always sounds good to put on a campaign leaflet and he's promised £300m over the next three years to tackle waiting lists - another sore point for Yousaf, who was the architect of the post-Covid recovery plan which is just not working. He says this money will reduce waiting lists by an estimated 100,000 patients by 2026, coincidentally the year of the next Holyrood elections, but with around 820,000 on those lists it feels like a drop in the ocean.
Yousaf's handling of what is for him a very personal crisis, the conflict that has broken out between Israel and Hamas in Palestine, has also won him plaudits, even from detractors across the political spectrum. His decision to attend a synagogue service this week, to meet representatives from Scotland's Jewish community was the rigtht one, his ability to express his grief along with the mother of Bernard Cowan who died in the horrific attack on the music festival, was heartfelt and genuine. His condemnation of Hamas but also of the collective punishment of Palestinians by the Israeli government has seen him straddle a diplomatic crisis with some aplomb.
But while that has won him some respect, and the sympathies of many given the situation of his parents-in-law who are trapped in Gaza, it is unlikely to turn into votes for the SNP at a General Election. Still, it may well make any prospect of a challenge to him as SNP leader fade further. Even if those predicted losses occur at the election, then the blame can be pinned on his predecessor, that police investigation, the mood among the Scottish public that they want to kick the Conservatives out of power in Westminster. SNP members were left bruised by the leadership election, they will not want to rush into another.
Humza Yousaf's position as leader now looks safe until the 2026 Holyrood elections, but his party's fortunes at the next General Election look far less secure. A council tax freeze won't be enough to shift the dial while a focus on making independence the main plank of campaigning could well turn off voters who are looking for stability after years of anxiety and stress, and to get rid of a Conservative government.