Humza Yousaf's hopes to reset agenda "torpedoed"
18 April 2023, 13:43 | Updated: 18 April 2023, 16:57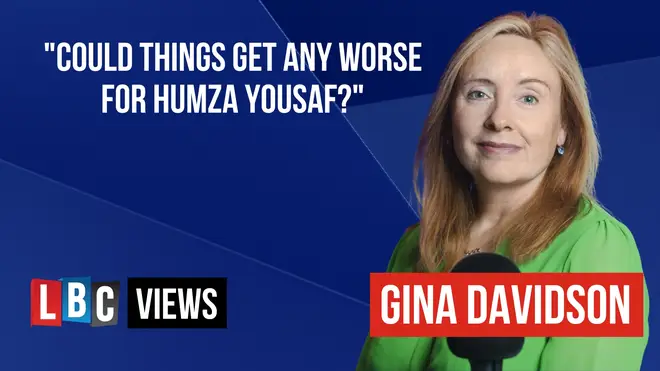 Could things get any worse for Humza Yousaf? The answer, unfortunately for him and the SNP, is probably yes.
For years many in Holyrood, even those on his own side, christened him Hapless Humza after a number of gaffes of his own making - now he is at the mercy of something which could be far worse than driving without insurance while transport minister.
And there is little chance of regaining hold of the agenda thanks to the events engulfing his party and which are far outwith his control.
He cannot, of course, influence a police inquiry into his party's funding and finances and the probe into where £600k of donations went. He has no control over what Police Scotland might do next - and when they might do it.
Today's arrest of SNP treasurer and the MSP for Midlothian North and Musselburgh, Colin Beattie, is a prime example. Police Scotland revealed they had arrested the 71-year-old backbencher just hours ahead of Humza Yousaf's big moment in Holyrood, where he was due to give a keynote statement, setting out his plans for government.
It would have been the first time since being elected SNP leader that he could have been on the front foot - to talk policy rather than police investigations.
To no avail. The headlines today and tomorrow will not be about his plans for tackling the cost of living crisis, but about this second arrest in Operation Branchform, the 18-month long (so far) inquiry into SNP finances.
But while he cannot control a police investigation, to regain the trust of his members and indeed of voters, he needs to try and take control of what he can - or have continued questions about his judgement and leadership abilities.
Was it naivety, or just a total belief in the leadership of Nicola Sturgeon and Peter Murrell which left him - and many others - incurious about party finances despite questions from many others? He certainly gave full-throated backing to Murrell during the leadership campaign, describing him as a proven winner while the other two candidates raised questions about whether they would wish him to continue in his role as chief executive.
That support came back to bite him sharpish. Murrell quit after misleading membership figures were released to the press - a move which also claimed the scalp of the party's head of communications, Murray Foote.
And of course during the contest Yousaf praised Nicola Sturgeon to the hilt - "the smartest person I know" - and said he'd have her on speed dial for advice, as well as suggesting she might become some kind of global independence ambassador for the SNP. Now he says he has not spoken to her in weeks.
For her part, Nicola Sturgeon will not be in Holyrood this week - she will only attend virtually. A move designed to keep the spotlight on Yousaf, her spokesperson says, but of course will also mean no awkward questions from the press as she goes to and from the Chamber.
Those questions won't be so easy for the new First Minsiter to duck. He has already had to admit he did not know the SNP's auditors had quit, did not know why the wrong membership numbers were given out, did not know his party owned a motorhome which was sitting in Peter Murrell's mother's driveway. There is much of which he has been unaware. What he does know though is that he will not be suspending any members caught up in this scandal - he has said innocent until proven guilty is how this should be approached.
Is that sustainable? Probably not. He may feel that giving the benefit of doubt is the right thing to do - but there are others, including SNP MSP Michelle Thomson who will wonder why that didn't apply to her when she was suspended for a period for much less. Having one rule for some and one for others is never a good look.
Normally new political leaders have a honeymoon period, however brief. Yousaf has had a nightmare from the get go. His planned reset today has been torpedoed by Beattie's arrest.
"Nobody said it would be an easy job," he told LBC yesterday, quickly adding "that's an understatement". He cannot afford his leadership to be understated if he is to survive the fallout of this remarkable turn in Scottish politics.