The appetite for investors to use London remains buoyant despite the challenging current conditions, writes David Buik
16 October 2023, 09:18 | Updated: 16 October 2023, 09:20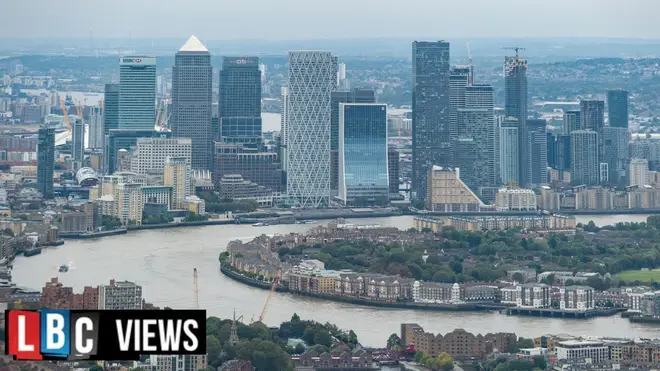 October has been quite a month for markets to digest worrying economic data and the outlook for the third quarter global earning season, and we are only half-way through it!
Observers have witnessed two party conferences of very unsurprisingly differing content and reception. The Conservative gathering in Manchester was sparsely populated and seemed very lack-lustre. The sideshows appear to have been not only better supported, but also more stimulating, with Liz Truss and Nigel Farage relishing their opportunities to stir up dissent with their 'wooden spoons'.
PM Sunak came out 'with all guns blazing', with an array of leaked policy announcements. The smoking ban did not really have a Tory hallmark about it and was irrelevant. The demolition of HS2 in Manchester, was 'jaw-dropping', unaffordable and garnered a mixed reception. The education initiative was far too futuristic to receive positive press. The PM'S speech, passionately delivered, was all about tomorrow. Delegates needed encouragement about the immediate future. The cupboard was bare and there was no mention housing and social care – an opportunity lost!
Conversely, Labour's jamboree in Liverpool seemed full of hope and 'pipe dreams' and perhaps a few false dawns. It was a brilliantly choreographed 'PR' exercise, with a glittery 'touch of the Judy Garlands' about it, leaving the public left guessing about where 'the rainbow might end'.
Sir Keir Starmer's speech together with Rachel Reeves's contribution were enthusiastically inhaled by delegates and approved by many from the business world and financial press. Their plans appeared ambitious, but the public knows that a Labour government – now very likely – has its hands tied behind its back, if fiscal discipline is to be observed.
It is not my style to be the 'Grim Reaper.' I prefer to be a glass half-full.
However, there are so many economic issues stacked against recovery and growth, which are worthy of rumination. Debt is a major concern. The total US debt stands at an eye-watering $33 trillion (119% of GDP) – up from $23 trillion in 2020. This massive increase has President Biden's stamp on it for his ambitious and maybe irresponsible infrastructure spending.
The UK'S debt in the same period has risen from £1.9 trillion to £2.5 trillion (100.5% of GDP). The 2020/21 Pandemic has been a major contributor to these gargantuan increases.
Interest rates have been jacked up globally from less than 1% to 5.5% in the US and UK since December 2021. These draconian moves were necessary to tackle inflation, which reached 11.1% in the UK in October 2022 and the zenith in the US was 9.1% in June 2022. The increased cost of service debt of this magnitude will inevitably take a negative toll on Government spending.
Though inflation has fallen– US to 3.7%, UK to 6.7% and the EU to 5.9%, there may be another rate increase in the pipeline, especially by the FED and the Bank of England, as inflation remains stubborn, thanks to geopolitical unrest in Ukraine and Israel/Gaza. Brent Crude Oil prices have bounced from $72 a barrel in July 2023 to $91 today – up 26% in three months. Also, gas prices are also gathering momentum. Food inflation in the UK remains indecently robust at 13.6%, down from 15%, but still unacceptably high!
These issues suggest that interest rates are unlikely to fall significantly for at least two years.
That being the case, undue pressure will be brought to bear on business and the consumer, especially those with mortgages. The rise in mortgage interest, with another 1.4 million mortgagees needing to renegotiate terms this year, will mean the consumer has less disposable income. There is a school of thought that believes house prices could drop 10-15% in the next two years.
To date retail activity has not been too bad. In 2023 retail sales are expected to increase by between 4% and 5%. However, the huge amount of money squirrelled away during the pandemic, thought to be £170 billion, is dissipating fast. So, the economic runes in the sand for 2024/5 don't look that appetising.
The UK has avoided going into recession so far, thanks to the buoyancy of its service sector. UK GDP is expected to come in at +0.5% for 2023, according to the IMF, despite earlier disobliging forecasts by this august body.
The same cannot be said for Germany, which is largely reliant on manufacturing. Germany is currently in mild recession. It's predicted GDP for 2023 is -0.4% The IMF has subsequently lowered its global GDP forecast from 3% to 2.9% for 2024. The US GDP forecast comes in at +2.2%, but it may fall to +0.8% in 2024. With China's economy dipping and in need of stimulus packages, these facts make the global economic outlook quite toxic cocktail for investors to digest.
The stock market doom mongers have started to mass their troops, with Jeremy Grantham, the octogenarian equity guru, leading the charge, believing a measurable fall in equity values, especially in the US, is a distinct possibility. The celebrated economist Mohamed El-Erian is also sceptical about the future, believing that the level of uncertainty could well have adverse effects on stock markets in the next two years. Investors will need to keep their wits about them and remain vigilant and circumspect.
It was interesting to note that last week's sortie by Germany's fashionable shoemaker, Birkenstock saw its IPO fall flat – down 13% on its first day's trading. This follows in the footsteps of Arm, whose IPO on the NASDAQ in September is now down 20% in value since its first print on 14th September 2023.
However, let me end on a good note. The London Stock Exchange, which reports earnings on Thursday has beaten off challenges from all other European bourses in raising capital.
The appetite for investors to use London remains as buoyant as ever, in the current challenging conditions.