A run by Jeremy Corbyn for Mayor of London will leave Sadiq Khan nervous
18 July 2023, 15:06 | Updated: 18 July 2023, 16:56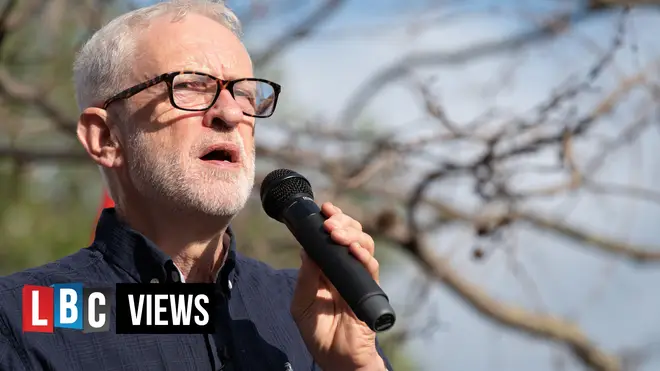 From Ken Livingstone and Boris Johnson to George Galloway and Laurence Fox – the London Mayoralty has always attracted colourful characters.
And what's not to like? It attracts a salary just below the Prime Minister at £155,000 per year, gets a plush office at the Royal Docks and occupants can freely moan about the government with few consequences.
Step forward potential challenger… Jeremy Corbyn.
The former Labour leader, who is teetotal and vegetarian, refused to rule out standing for City Hall as an Independent while speaking to LBC.
It might, however, prove difficult to lure Mr Corbyn away from the green benches which he has sat on for over 40 years.
The MP is undoubtedly an election winner, having been successfully returned at 10 general elections, but there will be question marks as to whether his popularity in Islington North would translate to London's leafy suburbs of Bromley, Richmond and Romford.
Nonetheless, Mr Corbyn is clearly relishing the speculation. He told LBC's Tom Swarbrick "I'm ruling nothing in and nothing out at the moment. Let's cross one bridge at a time, shall we?"
He wouldn't be the first member of the family to stand for the position. His brother, Piers Corbyn, stood last time out and gained 20,000 votes, putting him in 11th place behind Count Binface.
The MP also disagrees with his brother on one of the biggest talking points in the Capital… Ulez. Whilst Piers seemingly refuses to put down his megaphone at various rally's opposing the policy, Jeremy Corbyn has been unequivocal in his support, labelling it "an essential step to ensure children who live in the capital have better air quality"
Despite undoubtedly polarising opinion, Mr Corbyn clearly has a solid voter base in the Capital.
Mr Corbyn has already earned himself the endorsement of former Mayor Ken Livingstone.
He told LBC he would "vote and campaign" for him. "I don't think we've ever disagreed about anything… I'll do everything I can to help him get elected".
Adding "I think he could beat Sadiq Khan, things aren't getting better in London"
Whilst he might not win, Sadiq Khan will be nervous about his votes being diverted, and the possibility of the Tories seizing an opportunity.