Nottingham is a city in grief but will never forget the names of Barnaby Webber and Grace Kumar
14 June 2023, 10:35 | Updated: 14 June 2023, 10:58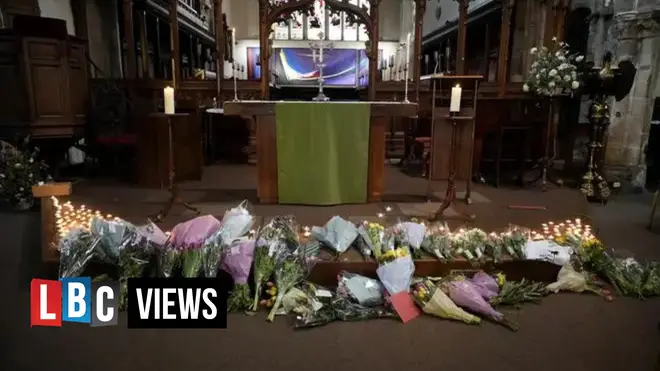 Nottingham is grieving this morning.
The names of Barnaby Webber and Grace Kumar are sewn into the fabric of the city.
How cruel that these two bright, intelligent young people had their lives snatched away from them on the streets of the city that they had chosen to be their home.
How utterly heartbreaking that the actions of one individual could destroy so many lives
I know Nottingham well and it will be hurting this morning. People in the city will be in disbelief. Asking why? How could this happen in our city?
Nottingham is the city of my birth and I still have many family and friends who live in the area.
It is a very welcoming city. Proud of its past but not afraid to look to the future.
Of course, everyone in Nottingham - and around the world - is aware of the folklore of Robin Hood.
But there has also been Albert Finney and Rachel Roberts in the era-defining Saturday Night and Sunday Morning and the European successes of Brian Clough's Nottingham Forest (which for me was bittersweet as a Sheffield Wednesday fan!).
Nottingham is the city of DH Lawrence and Jesse Boot but has also produced Vicky McClure, Stuart Broad and Bella Ramsey.
Last night the city came together for an emotional vigil following the knife and van attacks which shocked the city.
The flag on Nottingham's iconic council house has been lowered to half-mast and residents are signing a book of condolence as the shock gives way to grief.
We still don't know why these terrible attacks occurred. Police say they have an 'open mind.'
Over the next few days, the reasons for these dreadful crimes will become clearer. That time will come and there are lots of questions to ask.
But for the moment Nottingham is a city in mourning.
It will be grateful for the messages of support that have come in from around the world and when the dust settles the dreadful events of Tuesday morning and the names of the dead will not be forgotten.
Of that, you can be sure.