Reeves hopes for a 'game changer' with her speech packed with 'red meat'
9 October 2023, 13:42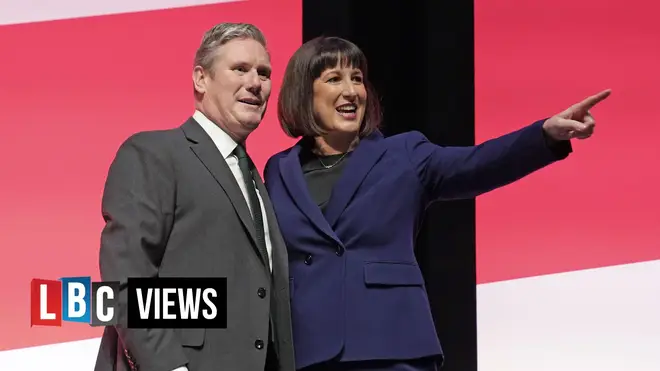 To say the main hall was busy was an understatement. Politicians, journalists and delegates were packed in like sardines in order to hear the Shadow Chancellor.
Although, it was so busy that the Labour party risked alienating some of its own members who failed to get in to watch proceedings.
Ranting from outside the main hall one Labour Councillor told me the logistics were "absolutely f****** incompetent", whilst another member shouted "we have paid a lot of money to be here… queuing for 40 minutes only to be turned away"
The lucky people who got the golden ticket to attend were not disappointed though. Rachel Reeves gave arguably the best speech of her political career to date.
In terms of the 'red-meat', or even Tofu, members love their political figures to go after the Tories, and Reeves duly obliged.
Read more: Rachel Reeves pledges to 'rebuild Britain' and is backed by Mark Carney in Labour conference speech
"You can never trust the tories with our economy ever again," she said.
"They are so ready for opposition that they're behaving like they're already there. They are bereft of ideas."
There were also some 'jokes'. The Shadow Chancellor remarked that whilst she supported the Prime Minister's smoking policy "with a shortage of fag packets, what on earth are they gonna write their next policy on?" - a cheap shot which garnered huge applause from within.
However, the biggest cheer of the speech - if not, arguably, of the whole Labour Conference so far - came when Reeves reiterated her pledge to make private schools pay VAT.
There was also a "war on fraud, waste and inefficiency" as she announced a crackdown on "Tory Ministers private jet habits", clamping down on the Covid-related "carnival of fraud" and scrutinising government consultancy spending.
It ended, typically, with the staring down the barrel of the camera rallying call for her members. Members left the hall admittedly cramped, but nonetheless determined to get the former Bank of England economist to the heart of government.
The aftermath of the speech, with the former Governor of the Bank of England Mark Carney endorsing the message, Labour will be hoping is a political game-changer.