Hopefully this reservoir search can finally reveal what happened to Madeleine McCann
23 May 2023, 13:46 | Updated: 23 May 2023, 13:53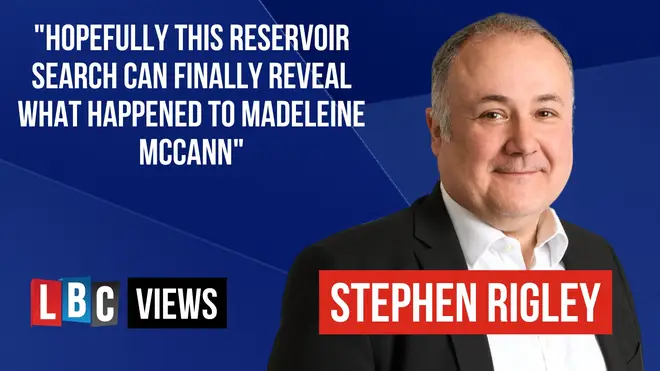 Who among us knows what the police divers will discover at the bottom of the remote Algarve reservoir?
Will it finally solve the mystery of what happened to Madeleine McCann and bring much-needed closure to her family?
Or will it prove to be yet another dead end and lead to more false hope for her anguished parents Kate and Gerry McCann?
It seems like a different world when Madeleine first vanished on May 3, 2007.
Listen and subscribe to Unprecedented: Inside Downing Street on Global Player
Tony Blair was Prime Minister, Manchester United were poised to win their ninth Premier League title and an England squad including David Beckham and Michael Owen were preparing to play for the first time at the newly rebuilt Wembley Stadium.
But that summer, missing Madeleine was the name on everybody's lips.
Newspapers reported on every move made by the Portuguese police in their bungled investigation and the public clamoured to know what had happened to the missing girl.
Sightings of missing Madeleine occurred as far away as New Zealand, Weymouth and Morocco.
The little girl from Rothley had become one of the world's most notorious mysteries. The name Madeleine McCann is now as well known as Lord Lucan, Shergar and MH370.
German prosecutors have named sex criminal Christian Brueckner as prime suspect in her disappearance and the current search - the first in nine years- is taking place at a location which he described as his "little paradise".
It was initially searched in 2008 but nothing was found.
Acting on new information the police set up a no-fly zone over the dam which is just 30 miles from Praia da Luz where the McCanns stayed 16 years ago.
Officers carrying shovels accompanied by sniffer dogs have been seen trawling the desolate site.
Madeleine was sleeping in a room with infant twins Sean and Amelie when she was taken. Now 18, Amelie joined her parents at a special service to mark Madeleine's 20th birthday earlier this month.
Many years have passed since Madeleine vanished and one can only hope that now the closure that this family desperately deserve is finally close.