I'm asking men to 'say maaate, to a mate' if they hear unacceptable language about women and girls, writes Sadiq Khan
21 July 2023, 10:12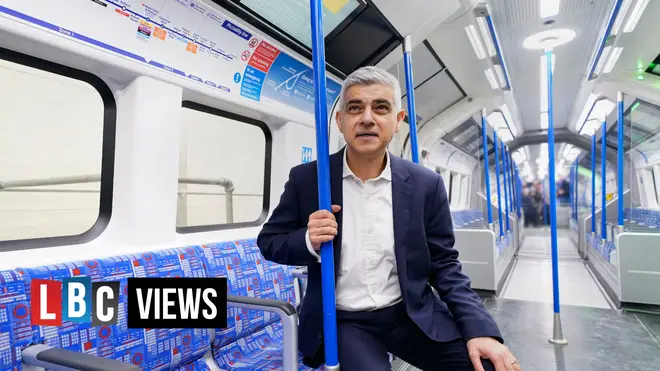 Someone recently suggested that I had been raised in a 'very male' environment. It wasn't something I'd ever really considered before, but somehow the statement rang true.
It's no secret that I was raised on a council estate in south London, but what fewer people know is that I was one of seven sons. We have a sister and my parents treated us equally but I attended a single-sex secondary school, played football and cricket with other boys and shared a room with one of my brothers until I left home aged 23.
These experiences didn't define me, but they certainly shaped me.
I often describe myself as a proud feminist but that is not something I claim lightly.
As a man, I'm aware that being a meaningful ally to women requires taking an active responsibility not simply adopting a passive mindset.
At school, there were instances in which I heard women and girls described in derogatory or demeaning ways – too often in the name of 'banter'.
Growing up, I called it out most of the time but, I'll admit not every single time.
We all know that uneasy feeling when we hear offensive language about women and girls. Even so, it's not always easy to speak up, especially when it's our mates making comments.
The fact is, even if you aren't the one speaking, you can sense when an atmosphere shifts. A friend falls quiet or turns away and it becomes clear the line has been crossed.
As I grew up I started to regret those moments of silence because the fact is, words matter. The actions which escalate into violence against women and girls too often start with words.
That's why, last year, I launched my ground-breaking 'Have a Word' campaign - encouraging men and boys to take responsibility for challenging sexism and misogyny.
Research we've carried out since the launch has shown that two in three men want to step-in when they hear unacceptable comments but don't know what to say.
This uncertainty was proving a barrier to them taking action. Our research has also made clear that shaming people is not an effective strategy and that for a mate to call out a mate, the best way to do so was from a place of respect for the friendship.
That's why - with the help of behavioural science experts and award-winning comedian Romesh Ranganathan – I'm championing a simple and effective intervention.
I'm asking men to 'say maaate, to a mate' when they hear unacceptable language about women and girls. 'Maaate' is a small word which can have a big impact when a friend crosses the line.
It's a simple, effective and familiar word that any of us can use to help stop sexist or misogynistic comments in their tracks and even start a conversation. 'Maaate' can be used at any age and at any time to convey surprise, displeasure, disagreement or doubt and it does so in a way that leaves the door open.
It may not seem like much but I believe that every intervention we make - however small - helps break down a culture of male violence.
The environments I grew up in may have been 'very male' but that didn't mean they had to be toxic. As boys, we didn't always realise the impact words could have but as men we know well enough.
That's why I'm determined to ensure women and girls no longer have to suffer objectification and humiliation at the hands of men. Because, as the late, great poet Maya Angelou once said – "Do the best you can until you know better. Then when you know better, do better."