SNP MP Lisa Cameron's defection to Tories shows the depth of malaise within the party, writes Gina Davidson
12 October 2023, 15:32 | Updated: 12 October 2023, 15:33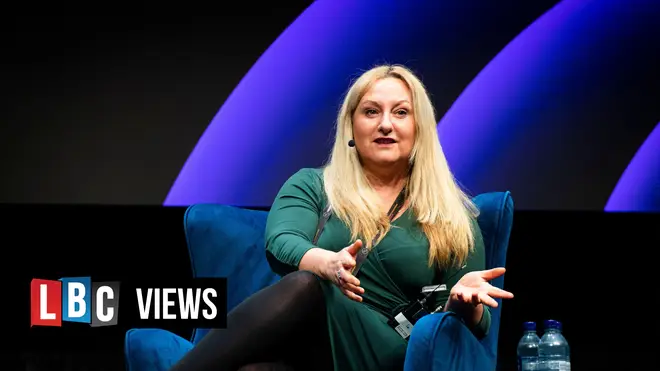 Dr Lisa Cameron is not an MP who has made great waves at Westminster. Until today.
A clinical psychologist, she rode into the Commons on the SNP landslide of 2015 after joining the party in the wake of the 2014 independence referendum.
But her time with the SNP has not been a happy one - and now it has ended in spectacular fashion, by her crossing the floor to join the Conservatives.
Two snap general elections in 2017 and 2019 meant she never faced a challenge to be the SNP candidate. But that was changing with the selection process for the next election as there was fierce competition from a local activist, whom she described as "the HQ candidate".
The results of that vote are now out, but ultimately meaningless given she no longer carries an SNP membership card; it will be Grant Costello for East Kilbride as far as Humza Yousaf's party is concerned.
It will be easy for SNP members to dismiss her decision - even if they are shocked by it. If they expected anything it was for her to quit and provoke a by-election or even to sit as an independent. But to become a Tory, to join the party which Nicola Sturgeon said she "detested" - a view held by many in the ranks - will feel like an abomination.
But to dismiss it would be foolish. Not because there will be a line of others looking to make the same leap, but because of what it says about the culture that exists in the party, one which seems to have taken deep root. That's a culture of exclusion, of ostracisation, if you're not on the same page as the leadership.
Cameron is a social conservative. She says she felt shunned by her fellow MPs after standing up for the victim of Patrick Grady's sexual harassment at a time when then SNP Westminster leader Ian Blackford was urging them all to support Grady, given his brief suspension from the Commons as a result of his actions.
The leaked recording of Blackford at a group meeting saw fingers point towards her at the time because it was well-known how deeply unhappy she was with the situation, though the source of that leak has never been confirmed.
But she voted against the party whip when it came to legalising abortion in Northern Ireland. She is pro-life. and says she received abusive letters as a result of her actions.
And she wrote to Scottish Secretary Alister Jack urging him to take action against the controversial Gender Recognition Reform Bill as she believed, like others in the SNP who also found themselves out in the cold as a result, that it had an impact on women's rights.
She claims to have tried to raise how she felt about the toxicity towards her in the group but no one in leadership would listen. It's a refrain we were used to hearing when Nicola Sturgeon ran the SNP with an iron grip. Humza Yousaf's leadership has been different, he has been more open to policy debate and discussion, yet he did not pick up the phone to call Cameron when she spoke about the impact on her wellbeing. The Tories obviously did.
In the last few months, the SNP has also seen the expulsion of veteran MP Angus MacNeil, who now sits as an independent. He had been unhappy for years about the party's plans to progress its ultimate goal of achieving Scottish independence, but it was a suspension from the parliamentary group which finally tipped the balance. He said he wouldn't rejoin til the October conference - now just a few days away - and the SNP's conduct committee expelled him instead.
Fergus Ewing a stalwart of the party has also been suspended from the Holyrood MSP group for refusing to back a government minister in a vote of no confidence. He is contesting that suspension but has said he believes his party no longer represents Scotland. He won't be attending conference.
Ewing is, of course, regularly described by those who don't like him as a "Tory" and he is certainly on the right of the party. It's rhetoric that Kate Forbes, who contested the leadership, has also had thrown her way. Yet the SNP has always been a broad kirk of opinion - the one thing binding them all together being independence - but that appears to be changing. Their are views in some policy areas which are no longer able to be held, or certainly not voiced if you want to keep your seat.
That there are some, like Cameron, who still support the constitutional aim, but not under the current leadership of the party, should be of concern to those planning how to hold on to as many MPs at the next General Election as possible.
Labour are closing the gap in the opinion polls, and will be boosted by the Rutherglen by-election win. The SNP's bluster that Cameron should stand down and provoke a by-election is just that, the last thing the party needs is to spend money on another election which they may not win.
The Conservatives also appear confident that not only will they hold the seats they have (Cameron's aside) but will gain some in the northeast at the expense of the SNP. Again, that could well be bluster but that they can even contemplate it, shows there is a weakness, a softness in areas of the SNP vote.
SNP conference is about to kick off but there is an end of days feeling abroad in the SNP - so many sitting MPs have decided not to stand again, including the former party poster-girl Mhairi Black, they don't have a sensible route to independence which would attract voters not swayed to Yes yet, and their divisions, long kept under wraps, are out in the open for all to see.
Humza Yousaf has a gargantuan task on his hands to rally his troops.