Trading principles for prosperity: UK's China strategy raises concerns over human rights and security
30 August 2023, 16:54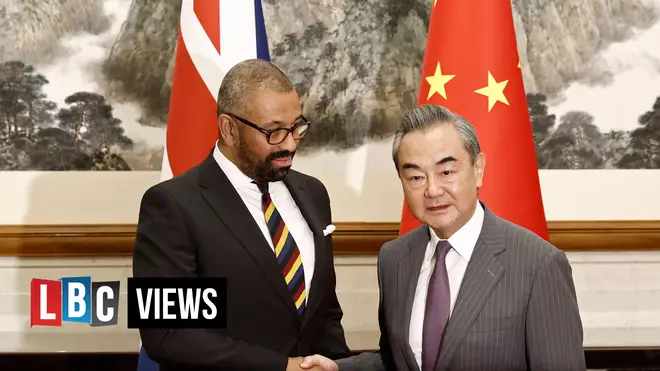 Marc is the Director of Research at The Henry Jackson Society. He has worked as a senior editor for the Telegraph and City A.M. and as publisher for the New Statesman.
David Cameron's "golden era" of UK-China relations may be over.
Still, as Foreign Secretary James Cleverly holds high-level meetings in Beijing, Rishi Sunak's "robust pragmatism" strategy is starting to seem like more of the same.
When Mr Sunak campaigned to lead the Conservative party last summer, he promised to stop rolling out the red carpet for China and said that a blind eye would no longer be turned to its violations of international norms and human rights abuses.
Now, all that seems to be off the agenda. Instead, we are trying to woo Chinese officials to attend the PM's flagship AI summit in November.
Perhaps inside the Foreign Office and the Treasury, this is a cold calculation where economic and diplomatic opportunity outweighs humanitarian principles.
But that fails to appreciate the real and growing risk that China's techno-authoritarian model poses to the West.
Today, the Commons Foreign Affairs Select Committee, chaired by Alicia Kearns, published a report that calls the Chinese Communist Party "a threat to the UK and its interests".
In one sign of China's aggressive behaviour, Ms Kearns said she fears Chinese cellular modules may have compromised the Prime Minister's car and entourage.
HJS associate fellow Christopher Balding has also recently published data indicating that in the future, Chinese dominance of the electric car market in the UK could potentially leave even braking and steering systems susceptible to remote CCP override.
The opportunities from engaging with China must be weighed against an honest understanding of the risk it presents.
A failure to do so in relation to the UK's 5G network infrastructure, for example, left us dangerously exposed via Huawei equipment.
We are still in the process of re-securing these compromised systems. Similarly, Chinese-made surveillance cameras have to be stripped from sensitive government sites because of the risk that they will be used for spying by the Chinese government.
For security reasons, UK taxpayers had to buy China out of its 20% stake in the Sizewell C nuclear power station.
The Intelligence and Security Committee recently reported that China's spies target the UK "prolifically and aggressively".
China is not a normal state, and we cannot treat it like one.
In particular, Britain should be sending a strong signal to China that abandoning its commitments to the people of Hong Kong is unacceptable.
Instead, we have sent Mr Cleverly, with a message that we want to return to business as usual.
Thank goodness the Commons, at least, has raised a dissenting voice.