Zelenskyy knows his most important battle for Ukraine's future is being played out on Capitol Hill, writes Megan Gittoes
22 September 2023, 17:45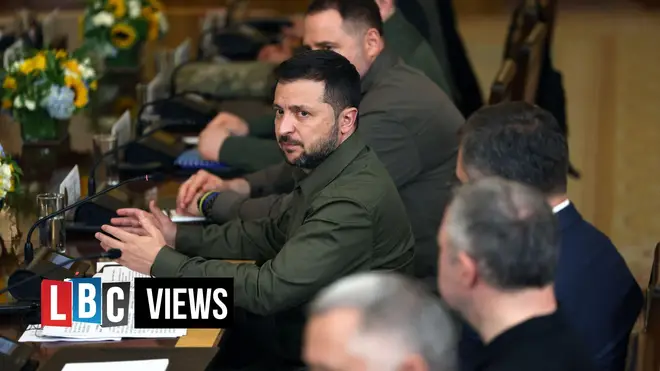 Megan Gittoes is the Director of Communications for the thinktank The Henry Jackson Society
Ukraine's President Zelenskyy has been in Washington DC again this week to seek a further aid package but this time meeting different circumstances than before - against the backdrop of a Republican primaries.
Nearing the 2024 United States Presidential Election the topic of further aid to Ukraine is only getting more partisan, so Zelenskyy made a plea directly into the contest.
The package – valued at $325mn – comes from funding Congress had approved to last until the end of this month. And, while the next stage of aid worth $24bn has overall bipartisan support, approval for this funding request will not be without a political hurdle.
A recent poll suggests most Americans oppose Congress authorising additional funding support for Ukraine - 55% say Congress shouldn't authorise vs 45% who say they should. As opposed to February 2022 – the early days of the invasion – when polling found that 62% of US citizens felt their government should be doing more.
While not impeccable, Western solidarity throughout Russia's invasion, has remained consistent. Surviving an energy crisis, inflation and a subsequent cost of living crisis, people undoubtably see the value in providing aid to Ukraine.
But this trend is not guaranteed. The risk is that support will become politically unpalatable, and The Kremlin's 'strategic patience' will win. Zelenskyy knows that despite the battles raging across eastern and southern Ukraine this week, his most important battle for Ukraine's future is being played out on Capitol Hill. So, Ukraine's President walked directly into the partisan divide to face the 'Power of the Purse' – the US Congress.  
Demonstrating his willingness for accountability and transparency – the fundamental component of Western democracy – he made the case that without further aid he could not win this war.
It's evident that Russian President Vladimir Putin's strategy is to drag out the conflict, cripple Ukraine's forces and test the West's loyalty through hybrid warfare – the weaponistion of food, energy, migration, and democracy - in a costly war of attrition. Defence of Ukraine and its democracy is a global imperative and it's critical that Western support endures these polarising tactics.
Ukrainians are unquestionably bearing the heaviest burden in defending their sovereignty and territory, showing remarkable dignity and resilience despite enduring unimaginable personal losses.
If Ukraine fails, then Putin's brutality and war crimes will be rewarded. The time has never been more important to defend democracy and freedom – the very values that the West has always fought to protect.