Who Is Henry Bolton? Meet Ukip's New Leader
29 September 2017, 16:05 | Updated: 29 September 2017, 16:58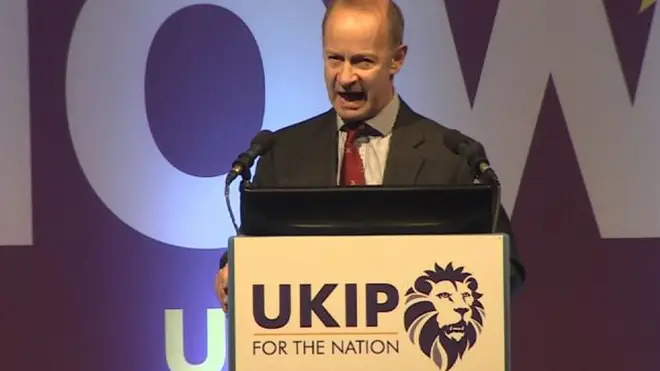 Henry Bolton has been named as the new leader of Ukip following a shock result at the party's conference in Torquay - this is all you need to know about him.
The vote had been billed as a two-way battle between the anti-Islam candidate Anne-Marie Waters and former London Mayoral candidate Peter Whittle.
However, with 29.9 per cent of the party's vote, Mr Botlon will replace Paul Nuttall, who resigned following the General Election.
Henry Bolton: Everything you need to know.
The former police officer, army officer and UN Governor was awarded an OBE in 2013 for services to international security.
Last year he stood as Ukip's candidate for Kent Police and Crime Commissioner, finishing in second place to the Conservatives.
Most surprisingly he was the Liberal Democrat candidate in the 2005 General Election in the Surrey seat of Runnymede and Weybridge.
He landed in third place, behind Labour and the now Chancellor Philip Hammond who stormed to victory with 51.4 per cent of the vote.
The 54-year-old has previously worked as part of the European Commission, in which he worked on building a common foreign security policy.
In 2014, Mr Bolton joined Ukip, saying that he felt more comfortable in a party that said what it thought.
Former Ukip leader and LBC presenter Nigel Farage told LBC he had backed Mr Bolton to become the party's fourth leader in just over a year.
He described Ukip's new chief as a "a guy of achievement and a man of substance".
Reacting to the result on LBC, he said: "He got my vote that was no doubt at all... There was a time when no one knew who I was, so the fact that he is not well known is not a disqualification at all.
"This is a man with a truly remarkable background. He was the top candidate at Sandhurst, he's done some remarkable things in the British Army, equally has done some remarkable things in the British police force."