"Crash For Cash" Cyclist Throws Himself On Car Bonnet… Instantly Regrets It
19 June 2018, 15:57 | Updated: 19 June 2018, 15:59
A cyclist threw himself onto a car bonnet in an apparent "crash for cash" bid, but instantly regretted it when he realised the bizarre incident was recorded on dash-cam.
The allegedly drunk BMX rider was filmed hurling himself at the car, before making off when he was told he was on camera.
It took place in the early hours of Friday morning in Coventry, West Mids.
The cyclist could be seen lying motionless on the floor, before he accused 36-year-old driver Paul Welland of hitting him.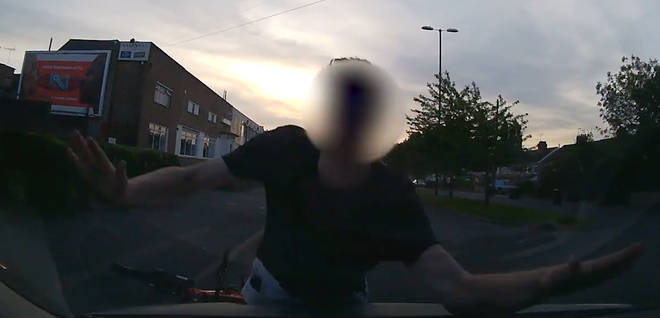 The father-of-two believes it was an attempted false injury claim because the man soon made off when he was told he was on camera.
"I saw him and his mate and I thought he was just staying in the central reservation bit," Mr Welland said.
"Then he started moving over so I slowed right down because I thought he was crossing and trying to act tough.
"I was slowing right down by this point so I beeped my horn at him and but he ran towards me.
"He dropped onto the car and slid down the windscreen. It made a huge bang. I just sat there thinking 'what the hell are you doing?'.
"When I reversed back and spoke to his mate I told him it was all on dash-cam.
"His mate said he was drunk and they had been out all night, but that isn't an excuse."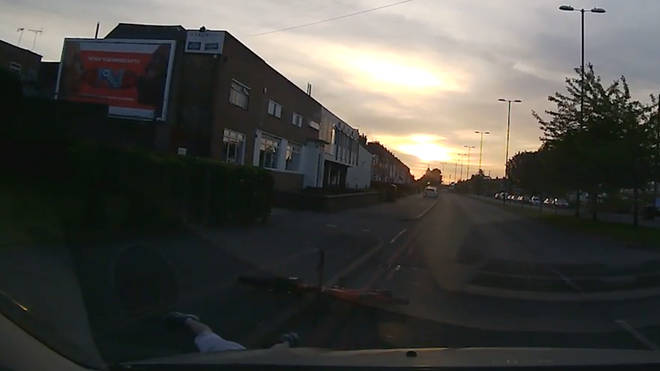 Mr Welland continued: "The guy who jumped on my car lay there until he heard the words 'dash-cam' then he jumped up and grabbed his bike.
"When he got up and he was wailing and crying.
"I had a look and luckily there was no damage to my car, the only damage would be to his clothes from how filthy my car was.
"He could've smashed my windscreen though, it could've been a lot worse."
Since sharing the footage online Paul says that five of his friends have gone out and bought a dash cam to protect themselves against potential false injury claims.
Mr Welland said: "I would encourage everyone to get a dash cam, spending £70 on one today could save you thousands in the future.
"Since I shared the video five of my friends have gone out and bought one.
"I'm so glad I had one. It is also a good job I don't drive that fast because that road is well known for accidents."
West Midlands Police were contacted for comment but had no official log of the incident.