Driver Blocks Pavement Before "Swearing" At Disabled Man Who Couldn't Get Past
28 December 2017, 13:39 | Updated: 28 December 2017, 13:45
An inconsiderate driver has been caught on camera blocking the pavement with his car, before "gobbing off" to a disabled man who was trying to get past.
The motorist had left his silver Vauxhall across the path next to zig-zag lines and just yards from a pedestrian crossing in Worthing, West Sussex on Christmas Eve.
Local resident Mick Symes recorded the incident after noticing that pedestrians were having to walk into the road while the man had his haircut.
The 67-year-old was then mortified when he spotted a man in a mobility scooter waiting to get past, so he sent his brother into the barber shop to ask the driver to move.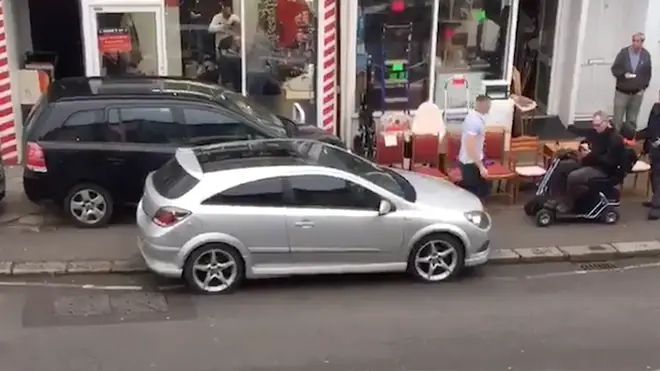 The motorist was then filmed storming out of the shop and then reportedly swore at the pedestrians, before speeding off down the road.
He then swung round a U-turn and parked on double-yellow lines round the corner.
Mr Symes described the man's poor parking as "absolute stupidity".
He said: "It's just the most stupid place to park. It's right on zig-zag lines, right on a junction, right on a bend.
"We have horrendous parking round here anyway. Everywhere is controlled parking zones.
"The man only lives about 200 metres up the road anyway. I can almost hear his door slam when he leaves home. He's quite well known in the area for slamming his door."
He added: "Unfortunately the audio didn't come out on my video footage, but the driver came out really mouthy, gobbing off at my brother and the pedestrian.
"He wasn't happy at all. He was halfway through his haircut. He went speeding off down the road, did a U-turn and came roaring back.
"He even gave his steering wheel a little pull in the direction of my brother as he was crossing back over the road.
"Then he went around the corner and parked on a set of double-yellow lines. But even that was an improvement - at least he was parked on a straight bit of road."