Driver Mows Down Teacher Outside School Gates In Astonishing CCTV
25 September 2017, 18:23
Astonishing CCTV shows the moment a man on the school run ploughs into a teacher throwing him over the bonnet of the car.
Rainer Schoeman, 22, was jailed on Friday following the incident which occurred as he turned into the entrance of a school in Woking to pick up a child.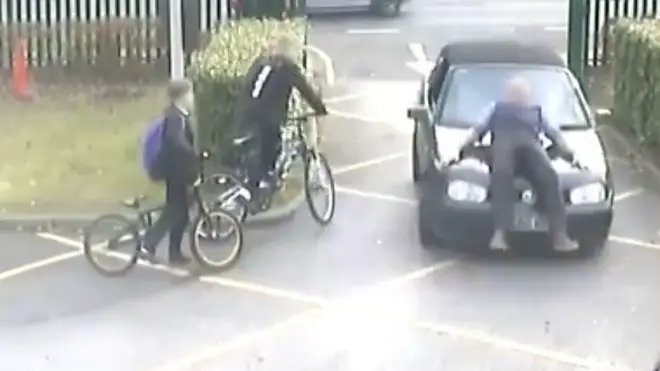 The video shows a teacher standing between the gates as the driver tried to drive on to the premises.
The pair have a conversation before Schoeman accelerated towards the teacher causing him to be thrown over the bonnet.
The VW he was driving continued into the car park and narrowly avoided two children on bikes.
The teacher was thrown from the bonnet of the car as it continued to travel at speed through the car park.
Schoeman was jailed for 10 months after he pleaded guilty to causing actual bodily harm, dangerous driving, driving without insurance and having no MOT.