Fuming Man Trashes Council "Spy Car" In Fit Of Rage Caught On Camera
18 April 2018, 14:51
Remarkable mobile phone footage shows the moment a man jumped on top of a traffic enforcement camera car and started trashing it.
It's the second time the council's "spy car" - which is designed to stop drivers using bus lanes - had been vandalised in recent weeks, BelfastLive says.
The shocking incident took place in West Belfast on Tuesday afternoon.
Video shows the man clamber onto the white vehicle before trying to rip off the roof-mounted camera with his hands.
He uses his shirt to hide his face, before stamping on the windscreen and shattering the glass.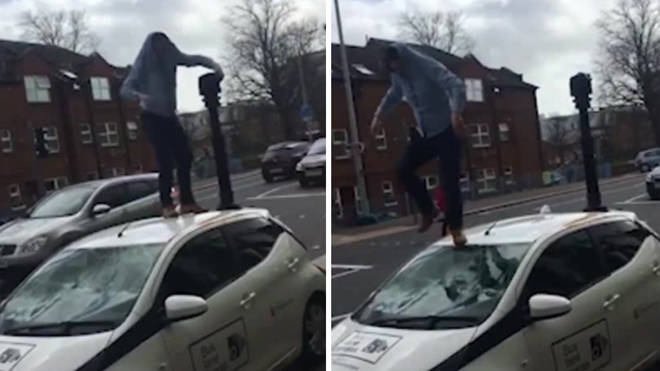 A number of cameras have been rolled out in the area to prevent people from driving in bus lanes.
Yesterday's attack, which took place at about 3:30pm, is said to have taken place while a risk assessment was being carried out.
There are reports a female worker was sat inside the car at the time of the attack.
You can watch the footage at the top of this page.