Mass Brawl Breaks Out Between Parents During Row At Children's Playground
24 July 2018, 15:18 | Updated: 24 July 2018, 15:45
A mass brawl erupted inside a Kent playground as parents fought over whose child was next to use a zip wire.
Several adults and children could be seen throwing punches at the busy park in Gillingham on Monday.
One mother was led away by police as patrol cars rushed to the scene to calm down flaring tempers.
It's understood the fight kicked off after a child pushed into a queue for the zip wire.
Eyewitnesses claim two parents bit each other as the situation descended into chaos.
The shocking video was filmed by dad Joe Sharpe, on the week the summer holidays began.
He said: "It started over a child apparently pushing in on the zip line, then the parents were arguing and one of the mothers decided to walk up the ramp and push a child….then it erupted and they all started mass brawling.
"Police arrived after about 20 minutes and about 15 people were fighting."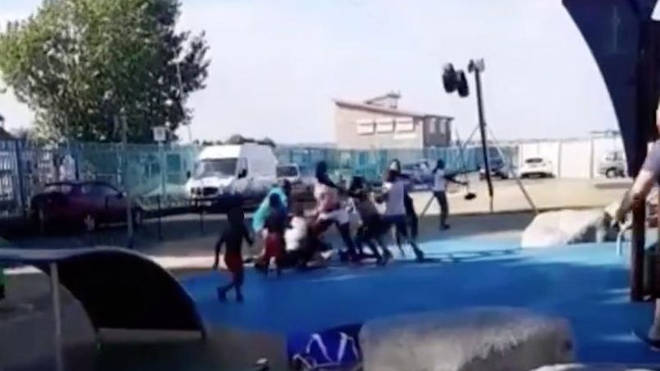 A spokesman for Kent Police told the Sun Online: "We were called to a disturbance in the Strand at 4.57pm on Monday.
"It was reported that a group of women were involved in an altercation and officers subsequently arrested three people.
"A 46-year-old woman from Manchester and a 17-year-old girl from Gillingham were arrested on suspicion of affray.
"A 40-year-old woman from Gillingham was also arrested on suspicion of assaulting a police officer."