Jacob Rees-Mogg Calmly Takes on Angry Protester At Tory Party Conference
2 October 2017, 19:24 | Updated: 7 November 2017, 14:20
This is the moment Jacob Rees-Mogg calmly answered questions from a protester who was furious about his views on abortion and austerity.
The Conservative Party conference event featuring the Tory backbencher descended into chaos on Monday as activists stormed the hall where he was due to speak.
Demonstrators waved "Tories out" placards at the busy meeting in Manchester, but the confrontation appeared not to faze Mr Rees-Mogg.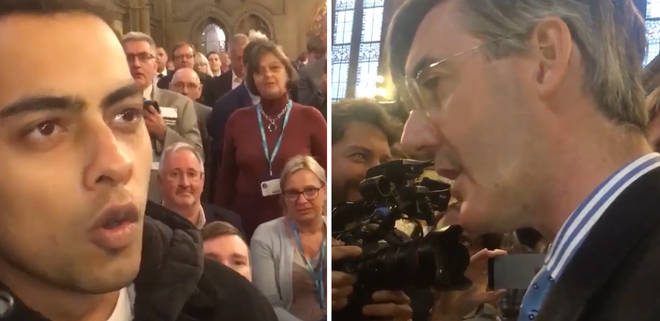 One protestor told the MP for North East Somerset: "Your disgusting views are not welcome here, so get out of here."
Unflustered, Mr Rees-Mogg politely asked: "What do you disagree with me about?"
The unnamed man responded: "Everything you have to say, on abortion rights, womens' rights, austerity, everything. You're a despicable person"
"We may disagree on things," the MP said. "But just because you disagree with somebody doesn't make them a bad person, the two are separate."
During the confrontation, which lasted about two minutes, the demonstrator attempted to criticise the Tory politician for food bank usage and poverty.
But Mr Rees-Mogg had answers to the criticism, as he calmly said: "Most importantly, there are so many people in employment and employment historically has always been the best route out of poverty."
He added: "Lets leave my despicability to one side, because what is important is to have a discussion… you're welcome to talk to me but I think it is difficult if your intention is merely to shout and wave leaflets."