Hero Motorcyclist Dressed As Father Christmas Chases Hit-And-Run Driver
18 December 2017, 13:25
This is the incredible moment a hero motorcyclist chased down and apprehended a hit-and-run driver while dressed as Father Christmas.
The rider, Chirs RS, was filming for his YouTube channel in Paris, France, when he witnessed the pedestrian being knocked down at a crossing on 15 December.
When the driver failed to stop, he bravely gave chase through the busy streets of the French capital.
Head-cam captured the moment the YouTuber repeatedly attempts to get in front of the Renault Clio, but the driver simply refuses to back down.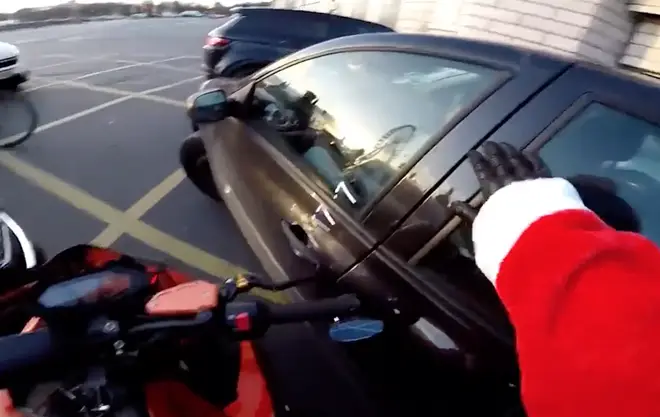 As the chase continues, the rider spots two police officers awaiting on bikes and manages to lead them to the suspect - who is arrested after the officers drew their weapons.
Writing on his YouTube page, Chris said: "I'm always there when there's action.
"It was a good day, I put on my Santa costume for a new video. People were happy to see me dressed like that and say hello.
"It is after Place Vendôme that the dramatic scene arrives... I had to try to stop this person."
You can watch the drama unfold in the video at the top of this page.