Weather Reporter Plays Up Hurricane As Two Men Casually Walk By
15 September 2018, 11:34 | Updated: 15 September 2018, 15:31
One reporter was caught playing up Hurricane Florence on live TV when two men casually walked past in the background.
The Weather Channel reporter was describing the winds in Wilmington, North Carolina, as being "as nasty as it's been".
Donning a blue waterproof coat, Mike Seidel was seen struggling to stand still against the strong winds.
But he was shown up when two men walked by without trouble in the background wearing shorts and trainers.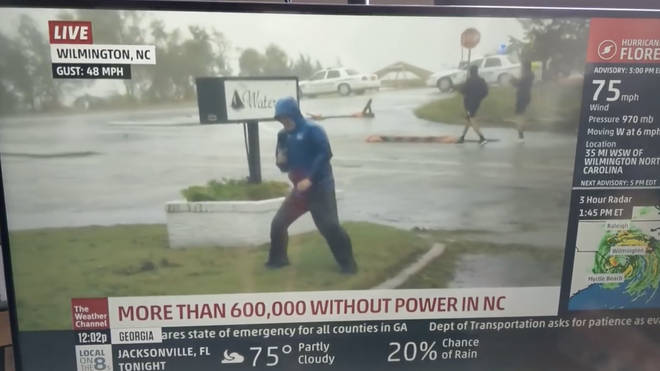 The reporter has been called out for being 'dramatic' as the hurricane battered the US coast.
The Weather Channel came to the reporters' defence, and said: "It's important to note that the two individuals in the background are walking on concrete, and Mike Seidel is trying to maintain his footing on wet grass, after reporting on-air until 1:00 a.m. ET this morning and is undoubtedly exhausted."
The hurricane was downgraded to a tropical storm, but continues to soak the East Coast area with rain, downing trees and damaging homes. Five deaths have been linked to the storm and thousands of people have been staying in emergency shelters.
Evacuation warnings were issued for 1.7 million people in the region.