Sadiq Khan Admits He Hasn't Met Bereaved Families Of Recent London Killings
5 April 2018, 14:15 | Updated: 5 April 2018, 20:59
Sadiq Khan has admitted to LBC he hasn't yet met any of the bereaved families of London's recent murder victims.
So far this year, 55 people have been killed in the capital with ten of those being teenagers.
Several killings happened in the first five days of April, with two people dying in east London night.
The Mayor of London has come under criticism for his lack of visibility over recent days.
Former Conservative leader Iain Duncan Smith accused Mr Khan of being "missing in action".
LBC's political editor Theo Usherwood managed to track down the Mayor on Thursday.
He asked whether he'd met any of the recently bereaved families.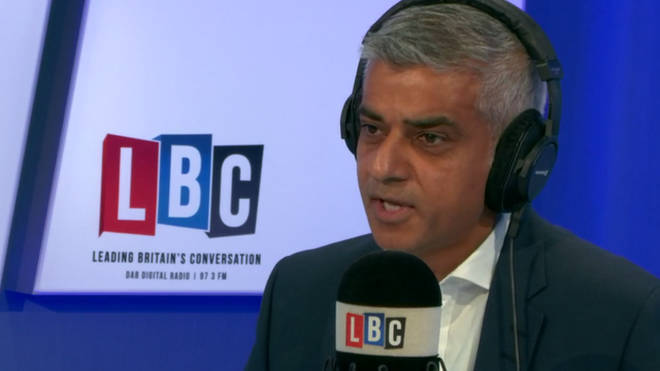 "I've spoken to a number of people over the last few days," the Mayor said.
So, Theo asked again: "Have you spoken to any of the bereaved families?"
Mr Khan replied: "No I haven't spoken to the bereaved families - but I've got a deputy mayor and police commissioner… the point is that we are a team."
When pushed again, the Mayor continued: "Look, I'm here talking to you and explain some of the things we're doing.
"I accept there are elections in four or five weeks time, and politicians will have an attack - that's part of politics.
"But, we've got bereaved families, we've got two teenagers who have lost their lives just in the last week.
Mr Khan said cuts to services, including frontline polcing, were behind the rising problem in the capital.
He appealed to Prime Minister Theresa May to meet him face to face.
I'm angered and heartbroken by the recent violent deaths on our streets. @metpoliceuk patrols have already been increased and extra stop-and-search powers are in place. If you have any information about these horrific crimes – please contact the police. pic.twitter.com/SXgGqL7zIV

— Sadiq Khan (@SadiqKhan) April 5, 2018
The Mayor continued: "I've got full confidence in the Met Police service but I'm not going to apologise for making the point of the context of the cuts over the last few years.
"One of the jobs of the Mayor is to be the champion and advocate of our city and that means standing up for our city when we are facing massive cuts."
You can hear the full interview below: