Tour de Yorkshire Volunteer Narrowly Avoids Being Hit By Support Car Mid-Race
8 May 2018, 14:15 | Updated: 8 May 2018, 14:20
A Tour de Yorkshire race marshal was nearly wiped out by a support vehicle mid-race after it crashed through a traffic island.
Volunteer Phillip Sullivan was left shaken but unhurt after he jumped out of the way of the incoming car last minute during the race on Sunday.
Terrifying footage shows the peloton heading round a bend where Mr Sullivan could be seen standing in the middle of the road directing the traffic.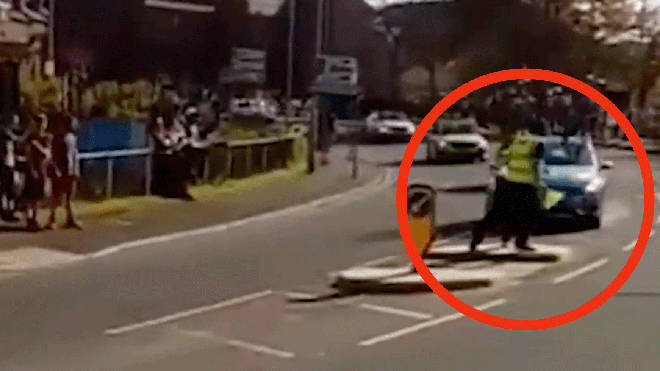 A number of vehicles passed him without incident as the group hurtled towards the finish line.
But, one of the remaining caravan cars, believed to be part of Team Astana, smashed straight through into the central reservation, nearly taking out the marshal.
The disturbing incident took was filmed by primary school teaching assistant Nathan Currie.
The 25-year-old, said: "We were sat as a family on the grass verge at the side of the road with plenty of other families around.
"It was a brilliant atmosphere and the accident came out of nowhere and was a complete shock to everyone.
"The driver did well to keep the car under control after the crash because it was going at some speed."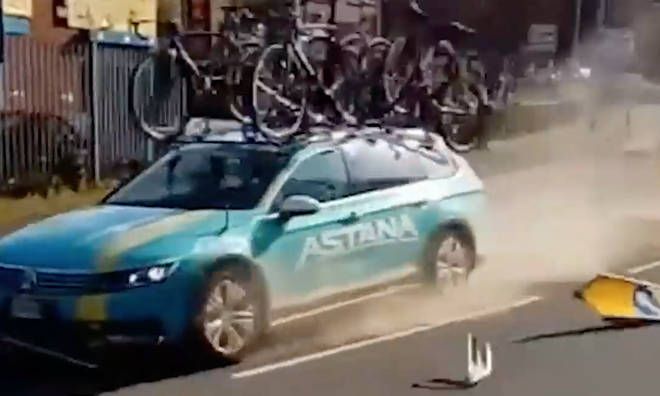 He continued: "The marshal was fine although very shaken and was back up on his feet again doing his job straight afterwards.
"We couldn't believe it - the whole crowd was cheering him.
"We had a quick chat with him about it and he was fine but when he had a look at the video he said a couple of choice words."
Cyclists were completing the last leg of the race from Halifax to Leeds across some 117.7 miles.
You can watch the incident unfold in the video at the top of this page.