Video Shows Aftermath Of 17-Vehicle Crash As "Beast From The East" Sparks Chaos
27 February 2018, 14:54 | Updated: 27 February 2018, 17:55
Video has surfaced showing the aftermath of a 17-vehicle crash as snow causes chaos on roads across Britain.
The major incident took place on the A120 at Elmstead in Essex blocking the road eastbound, according to local reports.
Video filmed this morning by a passenger showed a large lorry on the carriageway's embankment and long tailbacks.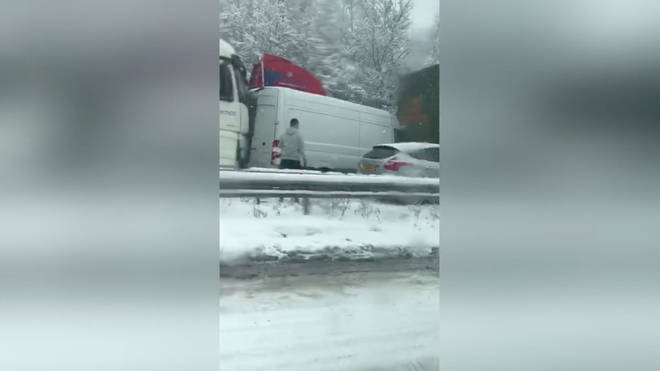 - Get the latest weather forecast for your area
One person suffered minor injuries and a number of cars were damaged as heavy snow led to treacherous driving conditions.
Essex Police confirmed it was dealing with a 17-vehicle collision and warned of delays.
The force is urging drivers to avoid the area and said the entire road may need to be closed for recovery.
- UK snow: Temperatures plunge to -9C as big freeze takes grip
Meanwhile, Three people died following a crash involving a car and a lorry on the A15 at Baston in Lincolnshire.
Police say the road conditions at the time will form part of their investigation, adding conditions on the road were snowy at the time.
A man was killed after a three-car collision on the A47 in Cambridgeshire, while another man suffered "possibly life-threatening" injuries after a van hit a tractor carrying a livestock trailer on the A30 in Devon.