Woman And Baby Miraculously Avoid Falling Tree During Gale Force Winds
19 January 2018, 13:15
A woman pushing a pram came within inches of a falling tree during gale force winds in the Netherlands.
Shocking CCTV captured the moment the large tree slammed to the ground in the village of Horst earlier this week.
It shows the woman being blown sideways as she struggles to walk forwards during a powerful gust.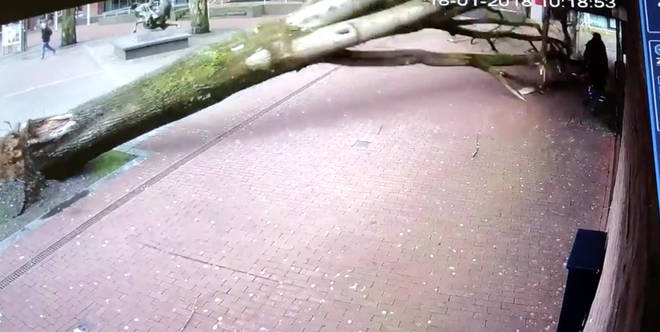 Unbeknown to her the change in direction manages to take her out of the path of the falling tree, which crashes down right beside her.
It was as a powerful storm pummelled much of Europe on Thursday, killing six people.
Falling trees killed two 62-year-old men in the Netherlands, a woman south of Brussels, a 59-year-old man at a camping site in the Emmerich, Germany and a firefighter in the German town of Bad Salzungen.
A driver also died in western Germany when he lost control of his van in strong winds and drove into oncoming traffic, police said