Woman Jailed For Slamming Dog To The Ground In Sickening Video
13 April 2018, 13:42 | Updated: 13 April 2018, 14:47
A woman has been jailed after she was caught slamming her dog into a patio floor in a fit of rage.
Joanne Hosking of St Ives has been locked up for 18 weeks after the sickening act left her one-year-old Jack Russel with injuries likened to a car crash.
In the clip, filmed by a neighbour, Hosking can be heard shouting at the pup named Edie while sitting in her back garden.
She then repeatedly throws the dog into the ground before grabbing it by the scruff and taking it inside.
Appearing at Bodmin Magistrates' Court on Thursday, Hosking admitted causing unnecessary suffering to Edie.
Her husband, Christopher, also jointly admitted to failing to provide veterinary care for the dog's injuries.
Veterinary evidence highlighted how Edie's dislocated hip would have caused considerable pain, and how extensive treatment and an operation to remove part of the joint were needed to save the young dog's leg.
Police had initially visited the couple after concerns were raised about Hosking's treatment of her dog but were told that the dog had injured herself jumping off a table.
RSPCA inspector Paul Kempson, who described the case as one of the worst he has seen in 22 years, returned with police officers a week later after further concerns were raised.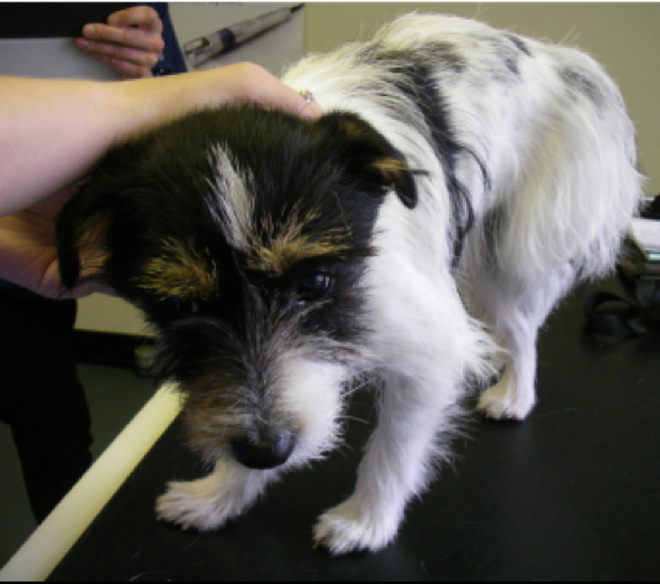 Mr Kempson said: "It's saddening and sickening that poor Edie was not only subjected to such horrific violence, but that she was also left to suffer with horrendous injuries for so long without veterinary treatment.
"Owning an animal is a privilege, not a right. Mrs Hosking abused this privilege by harming a poor defenceless dog in the most shocking manner. Edie suffered injuries which were described as similar to the sort suffered by animals in a road accident. There is never an excuse for animal cruelty.
"Thankfully Edie has made a full recovery and Mrs and Mr Hosking have been brought to justice for their heartless abuse and neglect."
Edie was signed over into the RSPCA's care by the couple at the time of her rescue and has since found a new home.
Christopher Hosking, who was unaware of how Edie came to be injured having been told by his partner the dog had fallen, was given a six-week curfew between 8pm and 6am, and also banned from keeping animals for life following his guilty plea.
Both Joanne Hosking and Christopher Hosking were each fined £625.
Mrs Hosking must pay a victim surcharge of £115 and Christopher Hosking must pay a victim surcharge of £85.