Ten LBC Callers Who Got A HUGE Reaction In 2017
18 December 2017, 12:33 | Updated: 18 December 2017, 13:46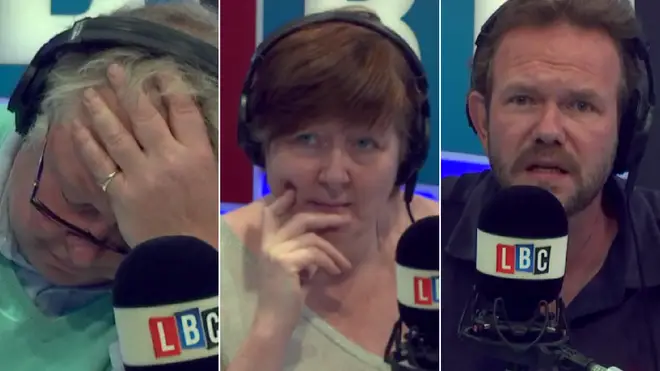 When LBC gets a good caller, social media goes into meltdown. Here are 10 moments that got everyone talking this year.
1. Maajid Embarrasses A Caller Demanding Sharia Law In Manchester
Aisha told Maajid she thought homosexuality and adultery should be punished by "stoning to death". Maajid's response was epic.
2. "If Grenfell Residents Move Into My Flats, I'll Move Out"
Shelagh was left shocked when this caller from Kensington says she would move out of her flats if the Grenfell Residents move in for free. Her reaction was so memorable.
3. The Irate Conservative Voter Everybody Is Talking About
This is phenomenal rant by one furious Conservative voter that has won the praise of many, many LBC listeners. Martin phoned Iain Dale because he was so irate with Theresa May's election campaign he just had to get it off his chest.
4. James's Perfect Response To Caller Who Blamed All Muslims For Terrorism
This caller told James O'Brien that all Muslims were complicit in terrorism and we need to take action. But James had the perfect response.
5. Nigel Farage Goes Ballistic At Caller Who Says He Has Links To Putin
This is the explosive moment an LBC caller tried to accuse Nigel Farage of having secret links with Vladimir Putin. The accusation almost sent Nigel purple with rage.
6. Caller Hangs Up On Shelagh Fogarty After The Most Bizarre Rant
This caller embarked on the most bizarre rant at Shelagh Fogarty before hanging up the phone without hearing the LBC presenter's response. Tessa was furious about Shelagh's comments on Donald Trump and said she had been "taking notes".
7. Maajid's Blazing Row With Muslim Woman Who Refuses Condemn Beating Women
Maajid Nawaz got riled up when a woman said refused to say whether she would condemn a man for beating his wife. This is an extraordinary clash.
8. Furious RyanAir Pilot Calls LBC To Reveal All About Working Conditions
This Ryanair pilot was so angered by boss Michael O'Leary's comments about his employees that he called LBC to reveal all about the company's working practices. And what you hear will shock you.
9. Leave Voter's Remarkable Advice To James O'Brien For How To Get Behind Brexit
This Leave voter had some unusual advice for how Remainers can help secure a good Brexit: wash your clothes by hand.
10. Nick Ferrari Threatens To Ban Caller From LBC During Explosive Row
This is the explosive moment a listener rang Nick Ferrari because he was furious with a joke the LBC presenter had previously made. The argument got so heated, it ended with Nick threatening to ban the caller.