Holocaust Survivor's Emotional Warning On Online Anti-Semitism And Hate Speech
22 January 2018, 15:29 | Updated: 22 January 2018, 15:37
Holocaust survivor Manfred Goldberg has said social media companies need to do more to stop anti-semitism and hate speech online, saying what's being shared goes "beyond freedom of speech".
Victims of the Holocaust were remembered at City Hall.
The Mayor of London, Sadiq Khan, was joined by members of the London Assembly, MPs, Rabbi Joseph Dweck and Holocaust survivors in a poignant ceremony held for Holocaust Memorial Day.
Manfred Goldberg was speaking to LBC's Rachael Venables after his address.
He said: "People who hate others, for whatever reason - it may be religion, it may be colour of their skin, it may be their sexual attitude etc... but once you permit these people a free run, sooner or later the message of hate they preach will take root".
He added that "it must not be permitted" because "if you do not learn from history we may be destined to repeat it".
Mr Goldberg said he was "concerned".
He told LBC: "I know freedom of speech is precious, but in my book some of the hatred which is now being propagated cannot be considered freedom of speech".
"I know it may be almost impossible, there's a very fine line and I'm not sufficiently versed or intelligent to preach on the subject or determine what is and what isn't.
"But somehow a solution, I think, has to be found in order to prevent a developing tragedy happening."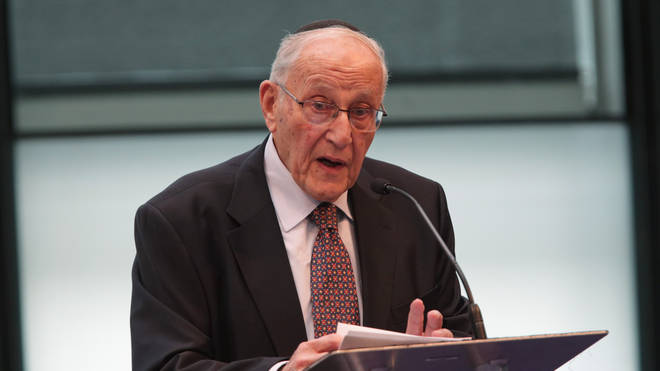 Asked by LBC's reporter how bad the anti-semitism is at the moment, particularly on social media he said he found it "extraordinarily concerting".
He ended with a powerful thought: "I did not think it could happen, certainly not in the lifetime of people who have survived the Holocaust".
During his speech Manfred Goldberg referred to the Nazis' anti-semitic propaganda which he described as "relentless".
"Believing that any lie, no matter how vile, would be accepted as truth, if repeated often enough".
Those gathered heard emotional accounts from the Holocaust survivor and from Kemal Pervanic, who survived the genocide in Bosnia in the early 1990s.
The ceremony featured London schoolchildren, who presented their experiences from the Lessons from Auschwitz project, delivered by the Holocaust Educational Trust.