The Best 10 Podcasts And Books To Make Your Train Journey Fly By
22 March 2019, 16:47 | Updated: 25 March 2019, 08:50
Promoted by Great Western Railway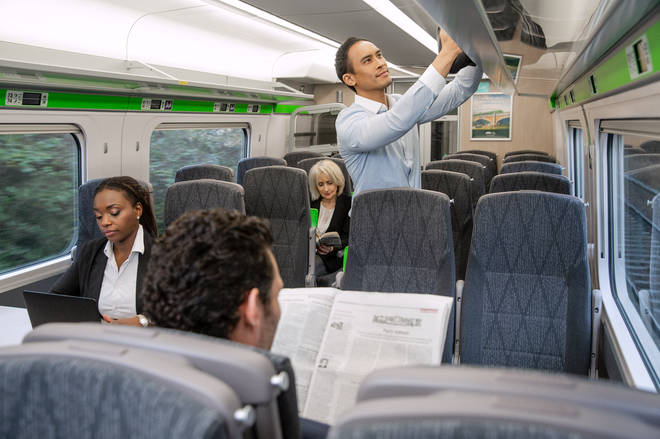 Whether you're travelling for business or heading away for the weekend, books and podcasts can be a great way to distract your mind.
So we've picked a selection of our favourites for whatever the occasion. With free wifi on most trains, you shouldn't even need to download the podcasts before you travel.
1. Goal Digger
How do you get your dream job? How can you make money online? Host Jenna Kutcher brings you inspirational stories and answers your questions in this popular podcast.
2. Get Productive
If you're travelling for business, you may want some inspiration to help you on your way. The podcast Get Productive hears from business leaders around the UK sharing their top tips for working smarter.
3. Full Disclosure With James O'Brien
This podcast reached number one in the UK. It's LBC's popular presenter having in-depth conversations with some of the biggest names in politics, entertainment and sport. The first two guests were Tony Blair and Ricky Gervais.
4. Factfullness by Hans Rosling
The world is actually much better than we think, says Hans Rosling. This is a bestselling book using statistics to prove that we get a lot of answers systematically wrong and we're not looking at the right issues with society.
5. Hired by James Bloodworth
The author went undercover in the gig economy, working for companies like Amazon and Uber to find out what it's really like working there. It's a fascinating look into the business world of low-wage Britain.
6. Startup
How do you set up a company? This fascinating podcast follows one man as he tries to set up a company that makes podcasts. It looks at the little things in running a company many people haven't thought about.
7. The Four-Hour Work Week
A best-selling book, explaining how you can escape the 9-5 and enter mini-retirement. An interesting look at how you can live anywhere and live a full, happy life.
8. Black Box Thinking by Matthew Syed
Find an edge in business by taking advantage of marginal gains. Matthew Syed explains how you can't plan for success unless you are prepared to fail, even catastrophically.
9. The Lazy Entrepreneur Podcast
Sam Priestly hosts this podcast which looks at modern day business. How do you build a business that funds the life you want to live?
10. WorkLife with Adam Grant
You spend a quarter of your life at work. This podcast looks into the minds of some of the world's most unusual professionals to discover the keys to a better work/life balance.
With more seats, free Wi-Fi and power throughout the train, traveling for business with GWR needn't be wasted time. Book your next business trip here, and enter our competition here for a chance to win a range of tech.
*Wi-Fi terms and conditions apply. Power sockets available on selected rolling stock only.