Andrew Castle Has Last Word Over Serena Williams' US Open Outburst
10 September 2018, 07:29
Andrew Castle says Serena Williams got what she deserved after our outburst in the US Open final.
The tennis superstar was docked a game for insulting the umpire after she called him "a liar" and "a thief" in an angry tirade on Saturday.
It's led to claims of sexism, but Andrew, one of the country's leading tennis commentators, said Ms Williams was in the wrong.
Speaking on his LBC show, he said: "I'm sorry, that is absolutely as plain as day. You cannot be saying that.
"Just because you've got a daughter doesn't give you any special privileges in this situation. Just because you're a woman doesn't give you special privileges.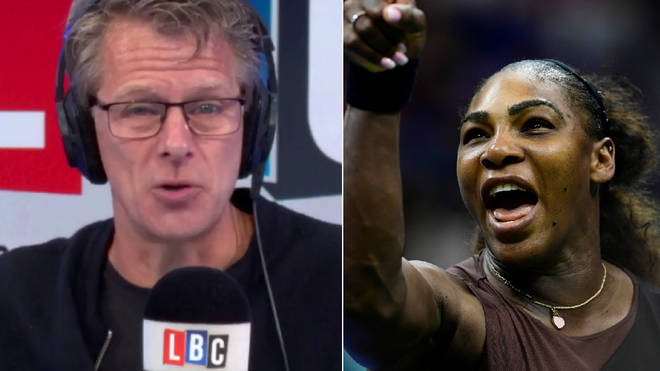 "I was one of the most fined players in world tennis one year. I had a terrible year, I was terribly badly behaved. You'll remember I said no to the poll tax and everything.
"You can't act like that and not get given a warning. You can't point your finger and call the umpire a thief and not expect to get another violation, which is what cost her a game. You just cannot do it."