Former UN Deputy Secretary General Pays Tribute To Kofi Annan
18 August 2018, 17:03 | Updated: 18 August 2018, 18:40
A former deputy to Kofi Annan pays a heartwarming tribute to a "quintessential global diplomat".
Lord Malloch-Brown, a Deputy Secretary General to Kofi Annan, said that Mr Annan was a "remarkable" person.
"What I think he'll be remembered most for is that he was the quintessential global diplomat," he said.
"Hardly anyone was able to resist his warmth and charm.
Lord Malloch-Brown said that it was his "love and affection" of the UN community that "made us all so loyal to him".
"We really saw him as the local boy made good," he said.
"Kofi was our man."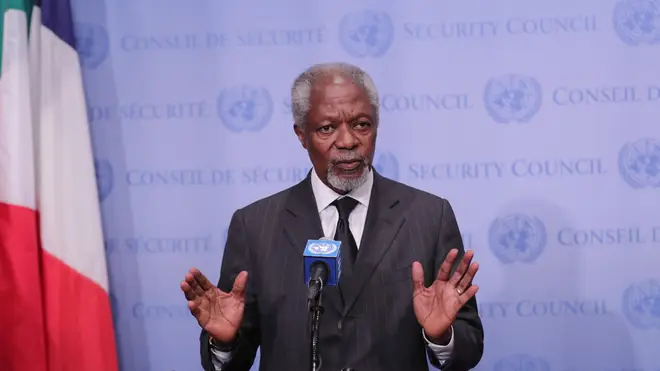 Mr Annan, who died in a hospital in Switzerland, was one of the world's most celebrated diplomats.
Current UN Secretary General Antonio Guterres described his predecessor as "a guiding force for good".
Mr Annan spent almost his entire career as an administrator in the UN and served two terms as secretary-general from January 1997 to December 2006.
He was awarded the Nobel Peace Prize in 2001.
His death was first announced by the UN migration body, which tweeted: "Today we mourn the loss of a great man, a leader, and a visionary."
It went on: "A life well lived. A life worth celebrating."