Plumbing Company Boss Refuses To Remove 'B******* To Brexit' Sign
7 October 2018, 09:27 | Updated: 7 October 2018, 12:29
This video contains language that some viewers may find offensive.
The boss of Pimlico Plumbers says he will not take down a giant "Bollocks to Brexit" sign on the roof of his headquarters in central London, even if it means going to prison.
Charlie Mullins is citing freedom of speech and a court case involving the Sex Pistols to oppose council claims the sign contravenes planning law.
The council believes that the sign does not relate to the Pimlico Plumbers business, and should be removed from the building.
But speaking to Andrew Castle, the businessman said: "Quite clearly Brexit it very much about our business. It's not coming down.
"I'm a remainer and looking for a people's vote, and it's not coming down until we get that.
"If it means going to prison over it, then that's what I'll do."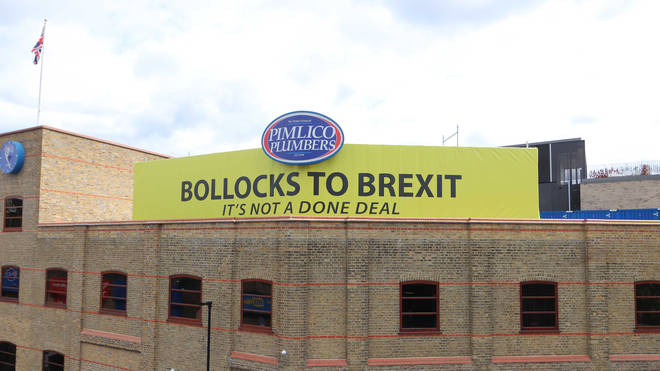 Mr Mullins, whose Pimlico Plumbing business has a workforce of over 400, is one of the country's best-known supporters of the campaign to stop Brexit.
He said he believes Brexit is going to bring "lots of job losses".
"This is not about trying to get cheap labour, this is making a stand for businesses," he said.
"I feel we're being bullied into leaving the European Union and now we're aware of what we're letting ourselves in for."