Assistant Headteacher tells LBC about equality sessions in school to tackle sexism among young people
8 January 2023, 19:13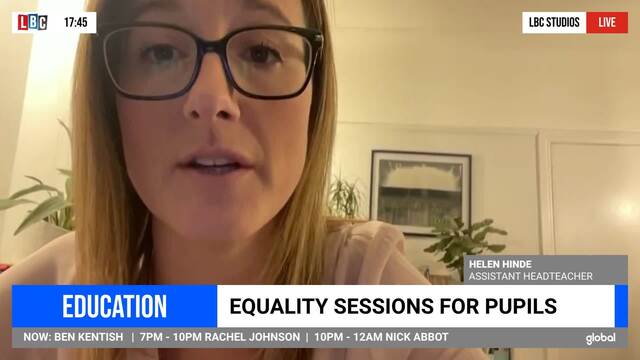 Assistant headteacher tells Ben Kentish that her school offers 'equality sessions' for pupils
In a discussion about the growing influence of internet personalities such as Andrew Tate, an Assistant Headteacher told LBC about the equality sessions her school is offering for pupils to try and counter sexist attitudes.
Helen Hinde told Ben Kentish the aim of the equality sessions is to counter "extensive misogynistic content" on the internet than can now be easily accessed by pupils, many of whom are "vulnerable."
She said educators have a duty to "support" their pupils, adding that influencers like Andrew Tate "are part of a bigger threat that puts all young people at risk."
With millions of followers, Andrew Tate has become one of the internet's most well-known and controversial figures, known for his violent attitudes towards women.
Helen clarified it's not just women and girls who are at risk, expressing concern for boys who are exposed to "the wrong kind of masculinity."
Ben asked how teachers can begin to tackle young people being exposed to the ideas of individuals like Tate, to which Helen replied the answer lay in sessions focusing on Personal, Social Health Education (PSHE.)
Helen emphasised that her school had thought "very carefully" about a "well-sequenced curriculum" that students are taught not only in lessons, but in form-time and assemblies.
READ MORE: 'Prince Harry should've married an English Rose', says racist caller
She said the lesson content covered "all aspects of equality, diversity and inclusion," and that her school also ensures staff have received adequate training to tackle the issues and recognise sexist behaviour in students.
Helen then stressed how important it was to "not risk alienating young people further," and that young people can be victims of online grooming.
She said her school approaches its pupils who may have been affected by this or other harmful attitudes "with tremendous caution" and "great tenderness" so that young people feel supported and listened to.