'Incompetent clown': Economics Professor lambasts Liz Truss' Institute for Government speech
19 September 2023, 12:24 | Updated: 19 September 2023, 12:26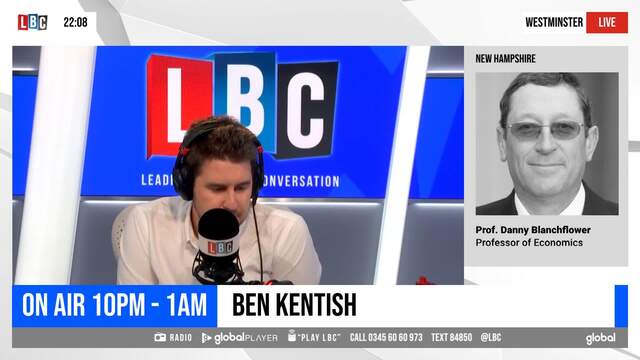 Economics Professor reacts to Liz Truss' Institute for Government speech
Liz Truss has been branded 'disingenuous' for not taking responsibility for the economic 'disaster' surrounding her tenure as Prime Minister.
Speaking to Ben Kentish, Professor of Economics at Dartmouth College Danny Blanchflower shared strong disapproval of the speech given by former Prime Minister Liz Truss at the Institute for Government.
In a speech on Monday Liz Truss refused to say sorry to mortgage holders and denied the claim she "crashed the economy" with her mini-budget last year.
Professor Blanchflower said her denial was a "joke," telling Ben: "Many of us, including me warned that this was going to happen. I wrote a whole series of columns before Truss became prime minister.
"I remember I wrote that on day one, 'She is going to have to go from Mrs Stupid to Mrs Sensible' and the Permanent Secretary at the Treasury is going to have to explain to her that the markets will not like any of this [her fiscal proposals] and she is going to have to change everything she is doing because this is going to be a disaster."
He likened Liz Truss managing the economy to "calling up the man in the street and asking him to do brain surgery".
"This is the most incompetent fool in terms of economics that anyone has heard of, every economist in the globe thinks this is a laughable joke."
Rather than speaking at the think-tank, Liz Truss "should have shuffled off, said nothing to anyone, and not embarrassed herself by coming out with some complete abject nonsense," the economics professor declared.
"We warned her, we told her exactly what was coming and she has the nerve to come back and say she was right, it's a joke."
READ MORE: 'Egregiously awful': James O'Brien reacts to Liz Truss' premiership as ex-PM defends time in No.10
READ MORE: 'No one got hurt': UK's reaction to Liz Truss' premiership was 'a bit hysterical', former Bank of England governor says
In her speech, Liz Truss urged the current Prime Minister Rishi Sunak to cut taxes, trim benefits spending and raise the retirement age.
"You failed the hint, why should we believe anything you have to say now?" Professor Blanchflower continued.
"This is the biggest abject failure we've ever seen of a prime minister, and you [Liz Truss] crashed the economy. What about that do we not understand?
"So I think it's pretty crass that we have this thing where people are fawning to this failed, incompetent clown."