'Egregiously awful': James O'Brien reacts to Liz Truss' premiership as ex-PM defends time in No.10
18 September 2023, 12:59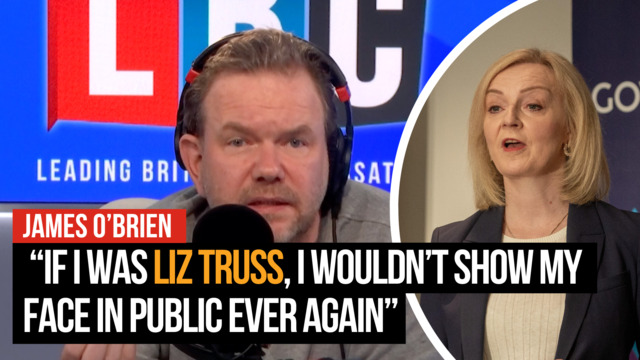 James O'Brien reacts to ex-PM Liz Truss' speech on economic growth
After the former Prime Minister denied 'crashing the economy', James O'Brien had some sharp words in the light of her claims.
James O'Brien said: "If you had done what Truss has done, I don't think you would ever show your face in public again, I truly don't.
"It is as if you spent your whole life dreaming of being a football player, and you got a run out in the last 10 minutes of the FA Cup final, and it was 0-0 with moments to go and the goalkeeper fell over his own shoelaces.
"You somehow ended up with the ball five inches from the goal line. all you had to do was stroke it over the line but you contrived somehow to trip over it and break your nose", he analogised.
READ MORE: Liz Truss denies 'crashing the economy' as she refuses to apologise to mortgage holders after mini-budget fallout
"You would want to hide for the rest of your life, right? I don't know what you'd do for a living", James continued.
"Imagine messing up on a scale so egregiously awful that you would not want anybody ever to remember your name, or indeed remember your face".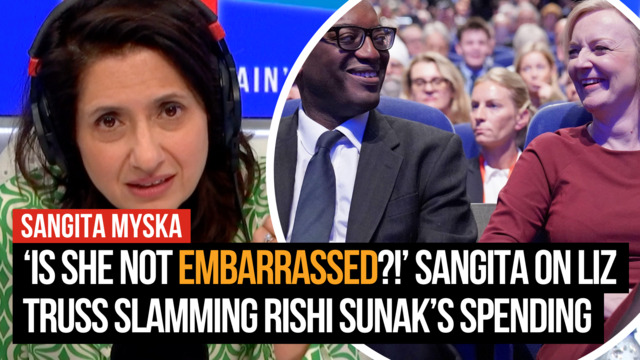 'Shamelessness': Sangita Myska reacts to Liz Truss claiming Trussonomics would have worked
Liz Truss and her Chancellor Kwasi Kwarteng introduced a mini-budget last year, which included £45bn worth of unfunded tax cuts.
The cutting of the 45p rate of income tax for those earning over £150,000 saw a rare issue of rebuke from the International Monetary Fund, the pound fell to a record low against the dollar, inflation soared to a 41-year high of 11.1%, and the Bank of England also hiked interest rates to compensate.
The former Prime Minister, who resigned after just six weeks in the job and became the shortest-serving Prime Minister in British history, gave a speech at the Institute for Government.
READ MORE: Liz Truss urges Rishi Sunak to cut taxes, slash benefits and raise the retirement age as she defends record in No10
When asked about the effects of her time in office, she said: "I do want to challenge this phrase 'crashed the economy'.
"The fact is that since I left office both mortgage rates and gilt rates have gone higher than they were at the time of the mini-budget.
"So I do think you are repeating a line to take from the Labour Party when you say that."