'That makes me a bit queasy': James O'Brien says of Rishi Sunak targeting country's poorest
27 March 2023, 11:29 | Updated: 27 March 2023, 15:30
James O'Brien astonished that Rishi Sunak is now going after beggars
James O'Brien says he is astonished the prime minister is trying to gain political capital by 'promising to be even more horrible' to the poorest in the country.
The comments come after the government's latest promise to crackdown on anti-social behaviour, including by banning nitrous oxide and targeting beggars, who the PM has said cause a 'nuisance'.
Read more: 'Nothing about Brexit is normal or fair': James O'Brien brands vote leave advocates as 'liars'
Read more: Nick Ferrari slams West Yorkshire police over Quran School incident
Responding to these measures, James said Rishi Sunak: "Seems to be going after people who use nitrous oxide, which is mostly going to be children, young people, teenagers – and beggars."
He makes reference to The Daily Telegraph's headline today 'PM targets beggars in crackdown on crime'.
James later adds: "So that raises the prospect...one of the richest men in the country targeting the poorest people in the country because he thinks it will deliver political capital. That makes me a bit queasy, actually.
"It just seems astonishing to me that the prime minister would be seeking to win political support by promising to be even more horrible to them than they are already".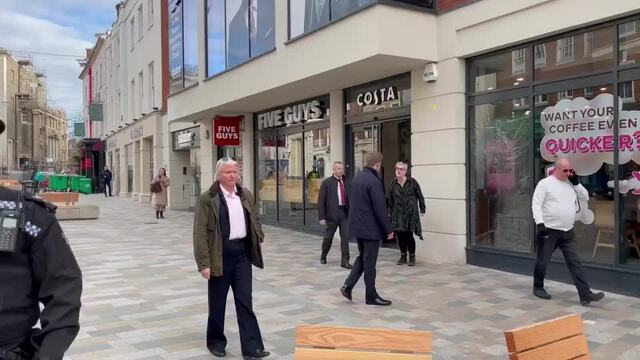 Prime Minister Rishi Sunak and Home Secretary Suella Braverman heckled on regional visit
Laughing gas will be banned, drug testing of criminals will become more prevalent, on-the-spot fines for graffiti and fly-tipping will be increased and more money will be ploughed into youth centres as part of a bid to eradicate behaviours spoiling Britain's neighbourhoods according to Rishi Sunak.
Mr Sunak said: "Anti-social behaviour undermines the basic right of people to feel safe in the place they call home.
"The public have rightly had enough - which is why I am determined to restore people's confidence that those responsible will be quickly and visibly punished.
"This action plan maps out how we will tackle this issue with the urgency it deserves and stamp out these crimes once and for all - so that wherever you live, you can feel safe in, and proud of your community."
Caller Jeremy says nitrous oxide has caused a 'pandemic' among young people,
Under what the Government is calling a zero-tolerance approach, laughing gas will also be banned.
Levelling-Up Secretary Michael Gove confirmed the move on Sunday, arguing that the "scourge" of nitrous oxide was turning public spaces into "drug-taking arenas" and helping to fuel anti-social behaviour.
The drug is typically released into balloons from small silver canisters and then inhaled.
Current legislation already prohibits the knowing or reckless supply of nitrous oxide for inhalation, but Mr Gove suggested it was likely to be included under the Misuse of Drugs Act.
The move comes despite an assessment by the independent Advisory Council on the Misuse of Drugs (ACMD) concluding earlier this month that the "health and social harms of nitrous oxide are not commensurate" with control under the 1971 law.