'This is a disaster for the Tories!': James O'Brien blasts the Conservatives after their local election results
5 May 2023, 12:29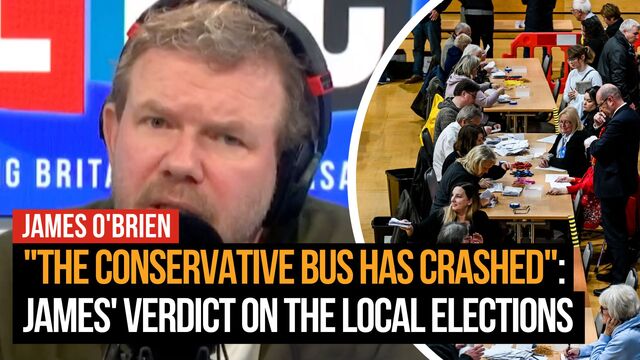 James O'Brien reacts to local election results
James O'Brien gave a brutal assessment of the local elections, saying the Conservatives have suffered casualties.
"The Conservative Party bus has crashed overnight, and it's crashed quite badly", James O'Brien said, adding that the casualty count will be "about as high as the worst predictions suggested".
"So Rishi Sunak [is] in the driving seat for a disastrous electoral performance", he continued. "That's a matter of fact."
"I don't know how many people are going to try to pretend that it's not or try to turn it into a conversation about, 'Well I think you'll find that Keir Starmer didn't win every single council seat, on every single council in the country, therefore this is actually a very bad night for them actually, actually, yes actually", James jabbed.
He went on: "This is a disaster for the Tories, predicted, expected - but a disaster."
"Don't get smug if you're keen to see the back of them- anything can happen in politics", he warned. "If a week is a long time, what the hell is 18 months?"
Follow LBC's live blog on the local elections here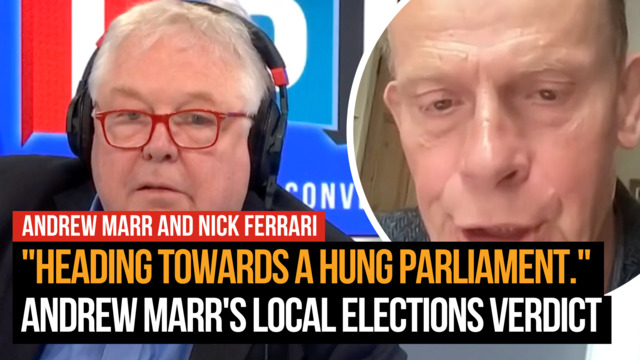 Andrew Marr gives his expert analysis of the local election results
READ MORE: Andrew Marr analysis: People haven't forgotten Liz Truss - they are still very angry
Earlier, Andrew Marr said voters are still "very angry" with the Tories, given what happened most recently with Liz Truss' premiership.
He added that the results so far, which have seen heavy Conservative losses, show that there is a split between a Conservative vote and an "anti-Conservative vote", with not just more votes for Labour but the Liberal Democrats as well.
Labour leader Sir Keir Starmer said the party is "on course" for a Labour majority at the next general election, while Lib Dem leader Sir Ed Davey said his party is making "big gains across the country".
So far, the Tories have lost at least 190 seats while Labour has gained at least 140. More election results will come in later today.
This was also the first time local elections required the controversial voter ID.