'I've spent more time with James Cleverly this week than with Suella Braverman in the last year', Sadiq Khan tells LBC
17 November 2023, 11:09 | Updated: 17 November 2023, 11:25
Sadiq Khan: 'I've spent more time with the new Home Sec in the last week than the previous one'
Sadiq Khan has told LBC he has spent more time with the new Home Secretary James Cleverly this week than he did with his predecessor Suella Braverman during her entire time in office.
Ms Braverman, who was brought back in as home secretary in October last year, was sacked by the Prime Minister Rishi Sunak this week after she made inflammatory comments about how police have dealt with pro-Palestinian marches in London.
She was replaced by the former foreign secretary, James Cleverly, who, set up a meeting with him 'within 24 hours of getting the job',' the Mayor of London said.
"I've spent more time with the new Home Secretary, James Cleverly, in the last week, than the previous one in the last year," Mr Khan told LBC's James O'Brien.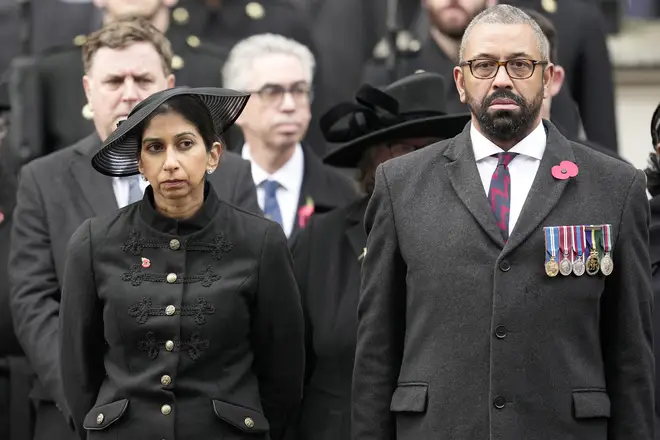 As for his relationship with Ms Braverman, Mr Khan told LBC that they had "no meetings" and said they didn't speak at all in the run up to Armistice Day last week, which resulted in violence from counter-protesters trying to reach a pro-Palestine march.
Listing off the home secretaries he has worked with, which includes Theresa May, Priti Patel and Amber Rudd, Mr Khan said he worked with all previous occupants of the role more than Braverman.
Read More: Emergency laws needed to 'stop the boats', says sacked Suella Braverman after court rules against Rwanda plan
Read More: Sacked Suella Braverman reveals five-point plan to get migrant flights to Rwanda
"Even in the first 24 hours of James Cleverly being appointed, he made time  to speak to me for 45 minutes. Put aside party politics, that's what grown-ups have got to do.
"You're the home secretary, have a joint responsibiltiy for the police service with the Mayor of London. You care about the city, I hope.
"I hope it bodes well for the relationship between the home secretary and Mayor of London but also, for Londoners and the police service."