Sacked Suella Braverman reveals five-point plan to get migrant flights to Rwanda
17 November 2023, 00:57 | Updated: 17 November 2023, 05:26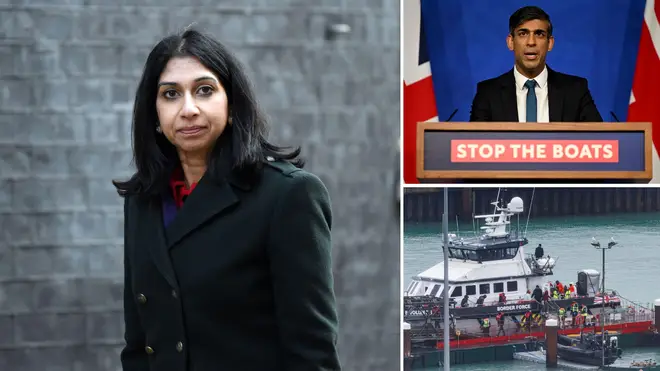 Suella Braverman has revealed how she would see the Government move ahead with plans to send migrants to Rwanda after the Supreme Court ruled it unlawful this week.
The former Home Secretary, who was sacked from her role this week, has said the Government must opt-out from the "entirety" of European and human rights laws to move the plan forward.
Writing for the first time since losing her role, Ms Braverman said the Prime Minister's new strategy is only a "tweaked version" of their Plan A.
She has now put forward a five-point plan on how she believes the Government should proceed.
It comes after Supreme Court Judges ruled on Wednesday that the plan to send asylum seekers to Rwanda is unlawful because they can't be sure the country is safe.
In response, Rishi Sunak said he would bring forward emergency legislation to "stop our policy being repeatedly blocked".
But the former Home Secretary has said his proposed legislation - to confirm Rwanda is a safe country - will not enable the plans to go ahead before the next general election.
She has instead suggested the legislation should block "all avenues of legal challenge", as well as make amendments to the Rwanda agreement in line with criticisms highlighted by the Supreme Court.
Read more: Govt 'absolutely determined' to make sure Rwanda flights take off before general election, home secretary tells LBC
Read more: 'I will not allow a foreign court to block Rwanda flights,' says Sunak as he announces emergency legislation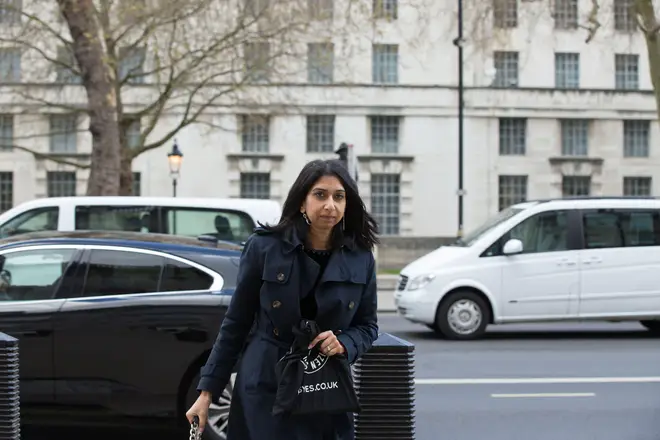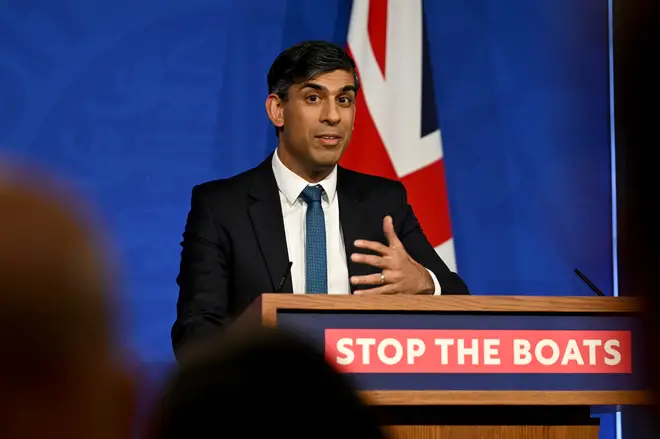 "There is no longer any chance of stopping the boats within the current legal framework," she wrote for The Telegraph.
"Now is not the time to waste energy on a post-mortem of how we got here. What matters for those of us who believe in effective immigration control is how to move forward.
"This requires honesty. Above all, it demands of the Government an end to self-deception and spin. There must be no more magical thinking. Tinkering with a failed plan will not stop the boats."
She continued: "To try and deliver flights to Rwanda under any new treaty would still require going back through the courts, a process that would likely take at least another year.
"That process could culminate in yet another defeat, on new grounds, or on similar grounds to Wednesday, principally that judges can't be certain Rwanda will abide by the terms of any new treaty.
"Even if we won in the domestic court, the saga would simply relocate to Strasbourg, where the European court would take its time deciding if it liked our laws."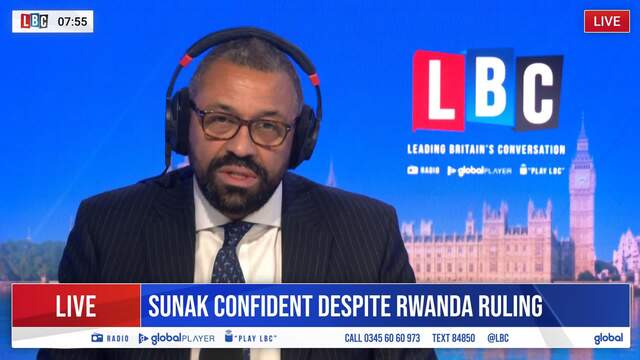 James Cleverly is 'determined' that Rwanda flights will go ahead
She also added: "The entirety of the Human Rights Act and European Convention on Human Rights, and other relevant international obligations, or legislation, including the Refugee Convention, must be disapplied by way of clear 'notwithstanding' clauses.
"Legislation must therefore circumvent the lengthy process of further domestic litigation, to ensure that flights can take off as soon as the new Bill becomes law."
Her comments come after Chancellor Jeremy Hunt said on Thursday that the Government could not guarantee the Rwanda flights would go ahead next year.
While the new Home Secretary, James Cleverly, told LBC that the Government is "absolutely determined" to make sure migrant flights to Rwanda take off before the next general election.
Mr Sunak's emergency legislation also runs the risk of being rejected by the House of Lords, as some have labelled his proposal a "constitutional outrage", according to reports.
The Prime Minister's emergency legislation would see Rwanda declared a safe country and block any legal challenges being levied against it.
It is thought the treaty will be announced on Monday and made it to law the week after.
Suella's five-point plan:
The Bill must address the Supreme Court's concerns regarding Rwanda
The Bill must enable flights before the next general election
Swift removal must mean swift removal
Those arriving here illegally must be detained
This must be treated as an emergency