James O'Brien scolds Tory MPs for 'sub-National Front rhetoric' and their claims that migrants are enjoying 4* hotels
8 August 2023, 13:48 | Updated: 8 August 2023, 13:53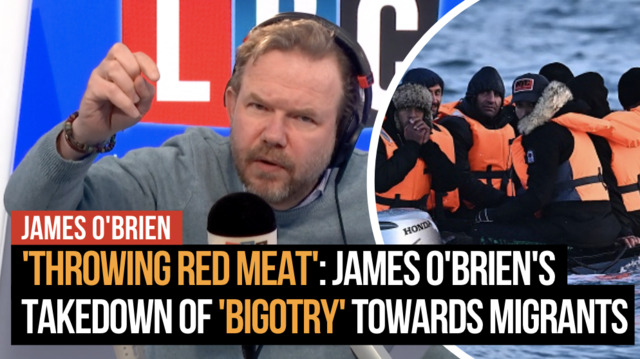 James O'Brien rips apart the 'bigotry' of some Tory politicians towards migrants
Tory Deputy Chairman Lee Anderson telling migrants to 'F*** off back to France' reflects an effort to "turn bigotry and ignorance into official Tory Party policy", James O'Brien says.
In an evisceration of Conservative politics, James O'Brien said he wasn't surprised by MP Alex Chalk "endorsing 30p Lee Anderson's sub-National Front rhetoric".
This came after Nick Ferrari quizzed the Justice Secretary (Alex Chalk) on comments made by Lee Anderson. Mr Anderson said migrants who don't want to go on Bibby Stockholm should 'F*** of back to France'.
Mr Chalk said: "There is a lot of sense in what Lee says."
James said comments made by "30p Lee, Potato-headed deputy chairman of the Conservative Party" were just another example of "racist baiting" and "throwing red meat" in an attempt to turn "bigotry and ignorance into official Tory Party policy".
Mr Anderson's comments are "stuff that, frankly, would have got you thrown out of the British National party when Nick Griffin was trying to sanitise it," James said, exclaiming: "How fast the world has fallen."
READ MORE: Bibby Stockholm is 'a death trap', warns fire safety expert as first 15 migrants board controversial barge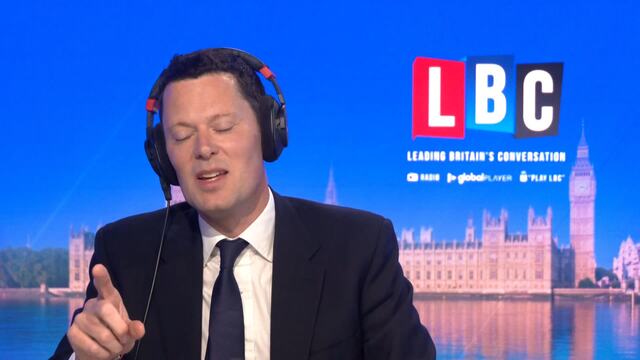 'There is a lot of sense in what Lee says,' Justice Secretary Alex Chalk says
READ MORE: 'We will punish and disgrace rogue lawyers who help small boat migrants lie to stay in UK', justice secretary vows
In Mr Chalk's defence of the deputy chairman he said: "We don't think it is fair to say that people who arrive illegally should be profiting from that illegality in 4* accommodation."
James said that statement is "disgusting" and "a blatant lie".
"There is no earthly way that any asylum seeker in this country has received the same level of hospitality - in a hotel that has once boasted four stars and may well boast them again - that a paying guest in a four star hotel receives," James started.
"They will not have the same food, they will not have the same accommodate option. They may well be required to share rooms, all sorts of I mean, it's so obviously untrue."
James stated that LBC reached out to Mr Chalk's team for an example of these 4* hotels but they are yet to provide an answer.
Downing Street have said that Mr Chalk was 'speaking on behalf of the government when he defended Lee Anderson this morning'.