Bibby Stockholm is 'a death trap', warns fire safety expert as first 15 migrants board controversial barge
7 August 2023, 22:22 | Updated: 8 August 2023, 06:14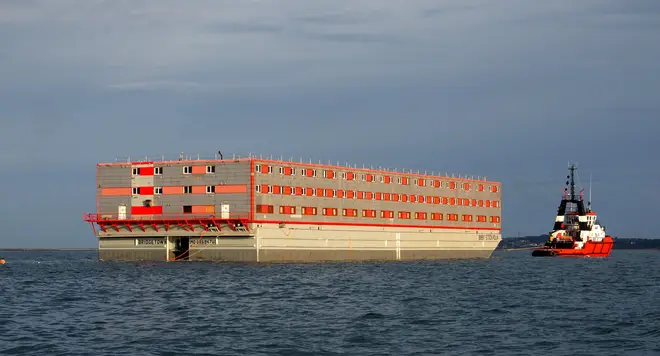 Iain Dale hears from this caller who has 25 years of fire expertise, and warns against housing asylum seekers on an 'overcrowded', barge.
Iain Dale spoke to Mark in Hitchin, who comes with "25 years of fire and safety expertise," after the first group of migrants boarded the Bibby Stockholm.
Mark began by telling Iain that his solution to the current migrant crisis would be "more barges."
He said: "There is insufficient space on that very small dock to evacuate 500 people to. If you tried to get them on there, the first problem you're going to have is access problems for the fire brigade."
The initial tranche of 15 people has begun boarding the barge, which is moored in Portland, as they were seen dragging suitcases into the vessel.
Around 50 people are part of the first group of migrants to board the vessel despite local opposition in Dorset.
READ MORE: Labour would have 'no choice' but to house migrants on barges and ex-military bases if voted into government
Mark continued: "It is a death trap. If you were to put 500 people on there, that vessel was designed for 222 people...you double the number of people you will stampede it."
Mark then went on to explain to Iain that fire certification no longer exists in the UK.
He said: "This is a government who are breaking all the rules because they just want to put on 500 people."
The Government is also considering reviving plans to fly people who arrive by unauthorised means 4,000 miles to Ascension Island, according to multiple reports.
Immigration minister Robert Jenrick said the Bibby Stockholm will accept its first occupants "in the coming days".
The Home Office did nothing to dampen suggestions the arrivals could come on Monday. Various expected dates have been given and then missed in the past, however.
READ MORE: First look inside controversial migrant barge - with gym, TV lounge and menu revealed for first time