James O'Brien caller's 'blood is boiling' at lack of oracy within the police as Labour announces educational reform
6 July 2023, 13:53
Caller: Techno generation' police officers are unable to communicate
As Labour promises educational reforms which promise to smash the "class ceiling", caller Trish's "blood is boiling" at the inadequate oracy skills of police officers.
Trish, a legal representative in Maida Vale, expressed her frustration to James O'Brien about police officers' lack of communication skills, saying they "made her blood boil".
She said: "I'm constantly complaining to police officers, saying they'll ring me, and I'll say 'stop, first of all, who are you? introduce yourselves, and have some manners!'"
Her dissatisfaction coincided with an announcement from Keir Starmer, where he pledged compulsory 'speaking fluency' lessons in state schools - insisting verbal skills are as important as reading and writing.
The Labour leader added that teaching children to express themselves should get more priority at all stages of education, and that being capable of speaking fluently "opens up a lifetime of empowerment".
Continuing her criticism of the police, caller Trish said: "You are educated, you've been to university, you have a degree.
"So how is it that you cannot communicate? Your role is to communicate with the public, you are a public servant, and yet you can't even communicate".
Read more: Keir Starmer pledges to shatter 'class ceiling' with 'radical reform' of education system
Blaming the communication breakdown within the police, Trisha condemned it as a "generational issue", but James disagreed.
The Labour Leader will join Nick Ferrari on Friday from 9am to answer your questions during the latest Call Keir - Watch Live on Global Player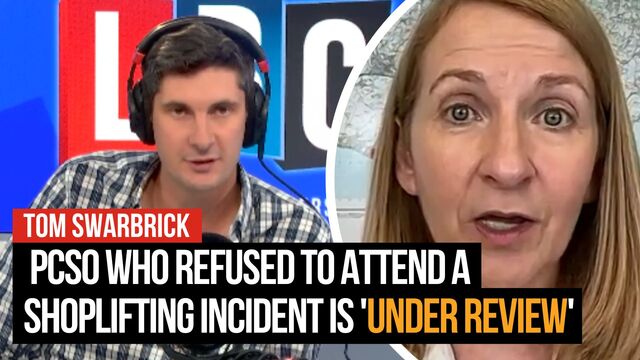 Police Commissioner for Sussex 'frustrated' by the PCSO who refused to attend a shoplifting incident
Interrupting her, James said: "See, I don't know that that's true, though."
Trish retaliated stating: "Well if I could finish?"
Expanding upon her point, Trish blamed the "generation now" adding: "They will sit next to each other and send a text message rather than have a conversation".
Noting her own experience, Trisha said: "We came from a generation where we would sit around talking...and so now the emphasis doesn't appear to be on communicating with someone."
Trish added: "They will sit there silently, but they'll be on the phone communicating, they'll send messages, but they're not actually - "
Concluding in agreement, James said: "I'll give you that then, I'm glad I let you finish, I'll give you the generational argument."
Read more: Archbishop of Canterbury leads attack against Sunak's migrant bill as govt suffers more defeats in House of Lords