'A desiccated poster girl for delusion and denial': James O'Brien reacts to Nadine Dorries' delayed resignation
29 August 2023, 14:45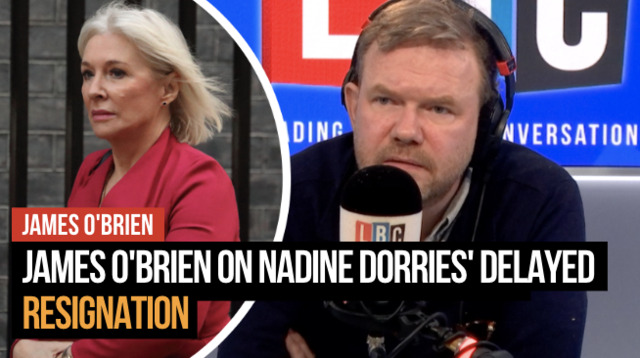 James O'Brien on Nadine Dorries' delayed resignation
James O'Brien explains how he believes that Nadine Dorries' protracted resignation saga has made her a "desiccated poster girl for delusion and denial".
James O'Brien delivered this monologue after Nadine Dorries formally resigned as a Tory MP for Mid Bedfordshire more than 10 weeks after announcing her plans to quit.
The former Culture Secretary handed in her resignation, nearly three months after saying she would.
James said to listeners: "This is how the country works now - you can cover yourself in disgrace...and end up being rewarded by the right-wing media.
"It's quite incredible to think that that is how low we have been brought largely by the continuing refusal to recognise the reality of all the lies surrounding Brexit and Boris Johnson, Dorries becoming sort of like a desiccated poster girl for delusion and denial."
Read more: Nadine Dorries formally quits as Tory MP more than two months after announcing plans to resign with 'immediate effect'
It comes after LBC's Henry Riley went on a quest to find the then Tory MP.
He said: I've been sent as Chief Bounty Hunter to one of the largest areas in Ms Dorries' seat, the leafy town of Flitwick.
"It's a quiet and friendly community with a couple of pubs, a large supermarket and a fantastic local café. But in short, I am here for one reason only – to locate the incumbent MP."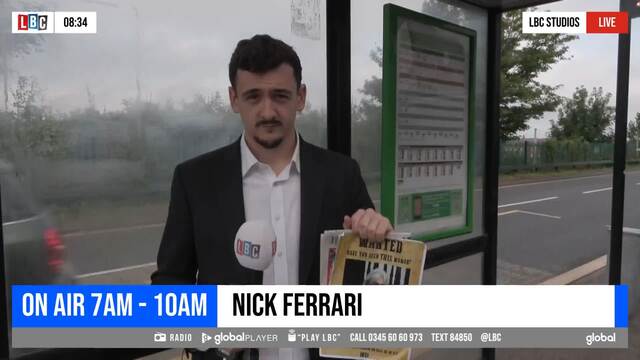 Henry Riley: 'No one' in the area has seen Nadine Dorries
Read more: 'Whipping up a public frenzy': Nadine Dorries resigns 'with immediate effect' in scathing attack on PM
The Treasury confirmed that Chancellor Jeremy Hunt has appointed her to be Steward and Bailiff of the Three Hundreds of Chiltern.
Ms. Dorries initially announced her plans to step down with "immediate effect" on July 9 in response to not getting a peerage in Boris Johnson's resignation honours list. Under tradition, MPs are appointed to a new position when resigning from the Commons rather than quitting outright.
James continued: "It makes a mockery of almost everything that we once, I'm not going to say held dear, almost everything that we once just took for granted.
"We just took for granted that politicians can't behave like that."