Rishi Sunak 'almost physically moves away' from Suella Braverman in House of Commons debate, says James O'Brien
8 November 2023, 14:10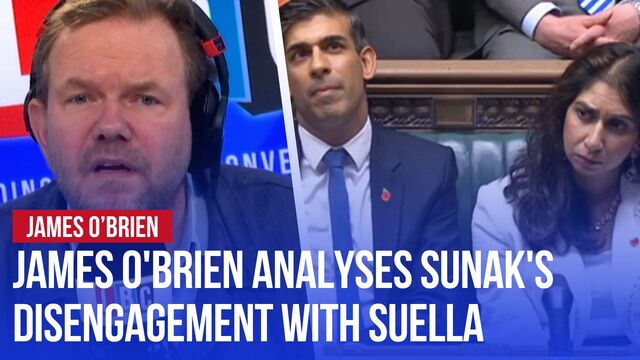 James O'Brien analyses Rishi Sunak's apparent disengagement with Suella Braverman
James O'Brien analyses Rishi Sunak's apparent disengagement with Suella Braverman, amid Keir Starmer's criticism of the Home Secretary.
James delivered this monologue after Labour leader Sir Keir Starmer warned the Prime Minister to "think very carefully" about his Home Secretary Suella Braverman after she made controversial comments about homelessness.
Reflecting on the debate, he said: "If you can watch what Sunak was doing and what Braverman is doing as Keir Starmer was just really producing the receipts of her recent behaviour.
It was absolutely fascinating because he almost to my mind or to my eyes, he was almost physically leaning away from her.
Over the weekend Suella Braverman referred to rough sleeping as "a lifestyle choice" while setting out plans to crack down on the use of tents on streets.
READ MORE: 'Think very carefully': Keir Starmer warns PM about Suella Braverman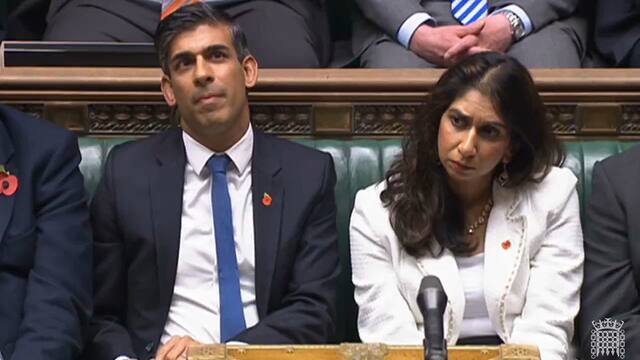 Ms Braverman's apparent plan to ban charities from handing out tents to the homeless was not mentioned in the King's speech on Tuesday.
James continued: "He was literally leaning away from her, he really was. He was physically leaning away from her. And there was absolutely no engagement between the two of them.
She didn't turn to him and roll her eyes as if to say: 'Oh, I wish this clown would shut up'.
"He didn't nudge her and say: 'Crikey, you've got under his skin, haven't you?'"
He concluded: "He looked, I could be reading too much into it, of course I could.
"But he did look as if he wanted to be anywhere but there."
Read more: 'Suella Braverman succeeded - she's caused hate', claims caller after Home Secretary criticises pro-Palestine marches